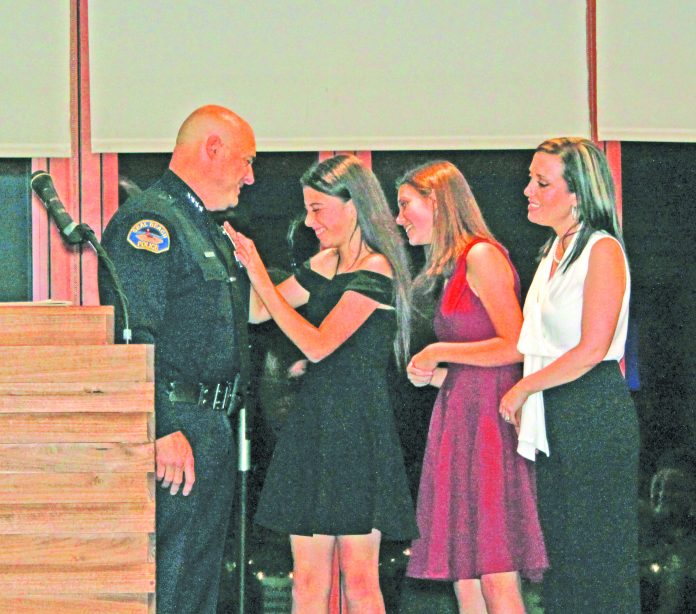 More than 300 people attended the event
During his first official speech as Seal Beach Police Chief, Phil Gonshak took a moment to blow a kiss to the memory of a friend who had died the previous morning.
He also made a lot of, ahem, personal jokes about his family history.
After his ceremony, his wife Stephanie Gonshak said, "Hottest police chief ever."
Phil Gonshak was formally sworn in as chief of the Seal Beach Police Department Thursday evening, Dec. 19. More than 300 people attended the event, according to Sgt. Nick Nicholas, the SBPD's public information officer.
Technically, Gonshak become police chief at the start of December, but it was last week that City Clerk Gloria Harper administered the oath of office, followed by his wife and daughters pinning his badge on his uniform.
Visiting dignitaries included former SBPD chief's Joe Miller (who will return as a reserve officer), Jeff Kirkpatrick and Robert Luman.
SBPD Commander Steve Bowles, who is retiring, opened and closed the ceremony. "Phil used to work for me, then I worked with him and now I work for him," Bowles said.
The commander introduced the members of the City Council, as well as representatives of the Orange County District Attorney's Office, Los Alamitos Unified School District, Captain Jason J. Sherman of the Naval Weapons Station Seal Beach, OC Supervisor and Seal Beach resident Michelle Steel, and other dignitaries.
City Manager Jill Ingram thanked the council for their support. She called the selection of Gonshak "undoubtedly the most impactful decision manager can make."
After working with Gonshak for the past 11 years, Ingram described him as an unsurpassed choice for the position.
"Chief, I'm truly honored to have the opportunity to appoint you as police chief," Ingram said.
Outgoing Mayor Tom Moore said there was no doubt the city would do well under Gonshak's stewardship.
Incoming Mayor Schelly Sustarsic (whose term technically begins in January) said she echoed Moore's sentiments about Gonshak. Both mayors thanked former chief Miller, who was the next speaker.
Miller said he became chief during a difficult time in the SBPD. "I'm so proud to congratulate Chief Phil Gonshak on a well-deserved promotion," Miller said.
Gonshak and his family gathered on the stage for the pinning of his badge.
"I introduce Chief Gonshak," Miller said.
The audience gave him a standing ovation, accompanied by many cheers.
Gonshak said the promotion meant the world to him.
Gonshak acknowledged District One Councilman Joe Kalmick. The Kalmicks and the Gonshaks have been friends for years.
He also acknowledged his former partners in SWAT, the SBPD's professional and volunteer staff. He asked everyone who worked for the SBPD to stand up.
He acknowledged his friend Commander Bowles. "He will be missed," Gonshak said.
The chief said he would always tell someone the truth "even if that will be something he or she doesn't want to hear."
When he became a police officer in Tempe, Arizona, he thought it was one of the coolest jobs in the world. He said he still felt the same way.
His duties in Tempe included undercover work (he once rolled in a riverbed to get dirty) and SWAT. That duty ultimately led to an incident in which Gonshak had to use deadly force. (For details of that incident, visit the Sun website and read the 2013 article "Dedication pays off in police promotion for Phil Gonshak.")
After seven years, it began to get to him and effected his first marriage.
After he was introduced to the woman who became Stephaine Gonshak, he paid a ticket she had received, "got her pregnant" and of course married her.
"I'm indebted to her."
He said his wife and three daughters taught him more about life than anyone else, including his mentor.
"I love you ladies," he said.
"I love it when you yell at me when I'm being a jerk," Gonshak said.
"I love that they let me work for hours in the garage without complaint," he said.
Speaking to the community, Gonshak said he had learned that almost all misunderstandings can be resolved with a face to face meeting.
He took a moment to speak about his friend Seth Eaker, who had died the previous morning. He blew Eaker a farewell kiss. Gonshak had also paid tribute to Eaker the previous evening at a memorial gathering for the.
Gonshak said that if you have an issue with his organization, give him the opportunity to have a meeting with him.
City Clerk Harper then administered the oath of office.