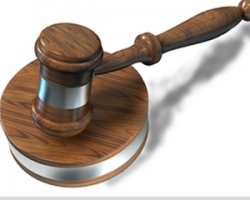 Update: A Seal Beach resident entered a plea of not guilty last week to one charge of involuntary manslaughter and one charge of assault likely to cause great bodily injury. This article has been edited to reflect the new information.
Seal Beach resident Matthew Meier, 32, was arraigned today for involuntary manslaughter after punching a bar patron in the face, resulting in the victim's death. When the Seal Beach Police announced Meier's arrest last week, they reported that Meier would be charged with assault by means likely to produce great bodily injury, based on the evidence police gathered. However, the Orange County District Attorney's Office also charged him with with involuntary manslaughter.
A bail hearing is scheduled to be held today, Monday, Aug. 7. Bail was originally set at $250,000.
The courthouse website confirmed that the arraignment was scheduled to be held at 10 a.m. According to the courthouse website, no bail has been posted in the case. According to the Orange County Sheriff's Department website, bail has been set at $250,000.
According to the DA's Office, on July 18, at approximately 1:20 a.m., Meier is accused of socializing at a Seal Beach bar called Clancy's, where he was also employed.
The defendant is accused of punching 46-year-old James Tinsman once in the face with a closed fist, causing the victim to lose consciousness, fall backwards, and strike his head on the pavement outside of the bar.
Witnesses called 911 and emergency medical responders took the victim to a local hospital.
Tinsman died later that day as a result of severe head trauma sustained during the assault.
In the early morning hours of Aug. 2, 2017, was arrested by the Seal Beach Police Department, which investigated this case.
According to the DA's Office, when a person commits an unlawful killing but does not intend to kill and does not act with conscious disregard for human life, then the crime is involuntary manslaughter. In this case, there is no evidence that defendant intended to kill the victim or was aware of the risk to human life caused by his act of punching the victim one time.