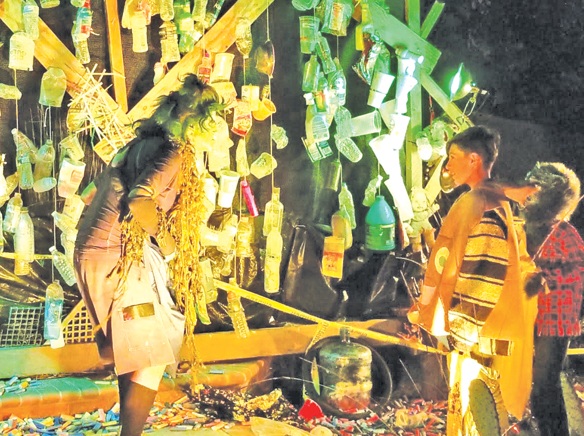 For one Seal Beach family, nothing is more frightening than trash on their local beach. The proof is in their Halloween decorations.
For the past five years, the Hirsch family has turned litter collected from the shore into a disgusting display at their house on Crestview Avenue.
Instead of ghosts or skeletons, trick-or-treaters were spooked by sewage spill warning signs, ripped Mylar balloons, crumpled plastic bottles and other debris hanging from a structure meant to represent the Seal Beach Pier. A sea of plastic bottle caps covered the driveway and plastic straws poked through plants.
"Yes, killer clowns are scary. Zombies are scary. But there's nothing scarier than the thought of all these sea animals eating plastic," father Ed Hirsch said in an interview this week.
There's also "sea trolls" milling around the display. As Hirsch explains it, the mythical sea creatures live in the depths of the ocean and rise up on Halloween to voice their frustration with all of the plastic polluting their environment.
In addition to passing out treats, the "sea trolls" can deliver a few educational "tricks" on Halloween night.
"Little kids love this idea; it drives high school students crazy," Hirsch said of the "sea trolls."
Parents with trick-or-treaters also received flyers from the Surfrider Foundation explaining how plastic is harming beach and ocean wildlife.
Hirsch spoke about how he came up with the idea "on a lark" after moving from Seattle back to his hometown of Seal Beach five years ago.
He said he was "horrified" to see the amount of trash on the beach and decided to hang some from a tree for Halloween. The decorations have grown ever since.
Hirsch and his family collect the trash used for the decorations during September and October from Seal Beach and from the mouth of the San Gabriel River.
This year, some litter was picked up by volunteers with Seal Beach-based Save Our Beach, which sponsors monthly beach cleanups. Other debris was collected by Algalita, a Long Beach-based nonprofit that works against plastic pollution. Long Beach artists Miyoshi Barosh and Thom Lacie also contributed materials, according to Hirsch.
Hirsch's wife, Britta, daughters, Pia and Franziska and their friends Lauren Gardiner, Annan Gunnison, and Jackson Medel helped put up the Halloween display this year.
Hirsch said the response from children has been a motivating factor for doing it every year. When his daughters and their friends learn about sea life ingesting plastic or being entangled in it, they "lit up," he said, adding, "I saw my kids get highly emotional, excited by this issue."
Hirsch's eldest daughter, Pia, has lobbied the Seal Beach City Council to ban polystyrene, a material that includes Styrofoam.