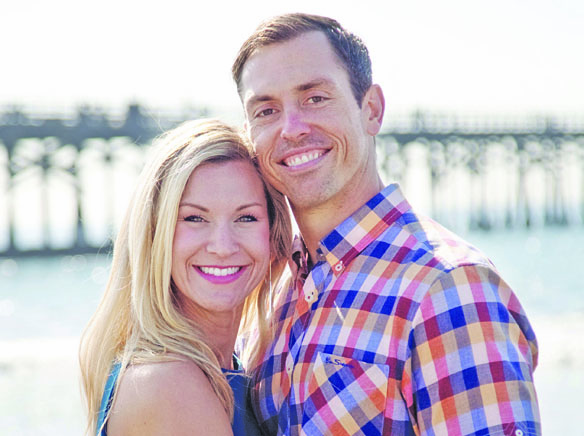 Seal Beach residents Paul and Jen Rohdenburg are partying with a purpose this month and they want you to join them.
On Jan. 19, the Rohdenburgs are hosting an '80s-themed event with live music, food, drinks and a silent auction to raise money for Los Alamitos Education Foundation, or LAEF, a nonprofit serving students in the Los Alamitos Unified School District, including at J.H. McGaugh Elementary in Seal Beach. LAEF provides after school and summer programs, scholarships, a S.T.E.A.M. initiative and more for LAUSD students.
"We are more than happy to help an organization that does so much for our children, and every child in our district," the Rohdenburgs wrote in an email to the Sun.
The Rohdenburgs were excited to recently learn that LAEF also funds mental health counseling. "It's so rewarding to know our fundraising will help support mental health services at our schools. This is unique to our district and incredibly important."
The Rohdenburgs, who have lived in Seal Beach for ten years, have a fourth grader, Lauren, and a first grader, Wesley, at McGaugh. Jen, a broker/realtor with Pacific Sotheby's International Realty, founded the MOMS Club of Seal Beach, Old Town, is an active volunteer at McGaugh and a board member of Project SEEK, a nonprofit that funds the school's Art Lab and Media Center. Paul is an Emergency Room doctor at West Anaheim Medical Center and at the VA in Long Beach.
The couple are one of four in LAEF's annual King and Queen of Hearts campaign. Each couple hosts events to raise money for LAEF and each dollar raised counts as a vote. The couple with the highest fundraising total is crowned the winner at the Royal Ball and Coronation Gala on Feb. 8, which is also a LAEF fundraiser open to the public. Last year's campaign raised a recordsetting $200,000, according to LAEF's website.
The Rohdenburgs are the only couple in the campaign from Seal Beach with children at McGaugh. Their fundraiser will feature '80s band "Flashpants," a taco bar and a cocktail bar and tickets are $100 available at http://laef4kids.org/rohdenburg/.
According to the Rohdenburgs: "It'll be a fun night supporting a great cause!"
The three other teams are also parents of current or former LAUSD students who are active in their communities.
George and Linda Sagen of Los Alamitos had three children graduate from Los Alamitos High School and are hosting a Sock Hop on Jan. 5.
Jim and Vhenus Belisle of Rossmoor have two kids at Hopkinson Elementary and Vhenus is a school psychologist for LAUSD.
They are hosting a Corn Hole Tournament on Jan. 27 and Progressive Wine event on Feb. 2.
Tony and Rachael DeMarco have two children at LAHS and one Griffin graduate. They are hosting a family-friendly event called Dodgeball Day on Jan. 13.
You can also contribute to the King and Queen of Hearts campaign with a donation to the silent or live auction or by becoming a corporate sponsor. For more information, visit http://laef4kids.org/laefevents/kingandqueen/
Editor's note: The author is the parent of a McGaugh Elementary student enrolled in LAEF programs and has contributed to the fundraising effort.