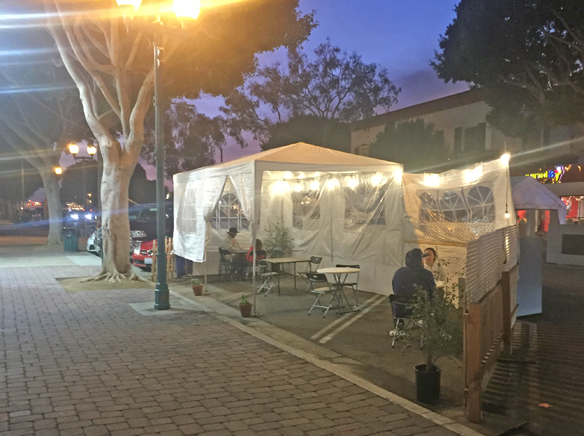 Fourth in a series on the city's plans.
Seal Beach staff will bring options for possibly permitting permanent outdoor dining parklets to a future City Council meeting.
Some local businesses support making the outdoor dining areas permanent.  Others do not, citing parking concerns.
At last month's City Council Strategic Planning Workshop, City Manager Jill Ingram reminded the council that the California Coastal Commission would have to approve the idea.
The Coastal Commission has only allowed temporary outdoor dining. "It stays in effect as long as our current Health Order is in effect," said Ingram.
They will be allowed only as long as the current Health Order is in place.
Meanwhile, businesses and government agencies have been reopening up and down the state.
"I think it will be fabulous for the merchants on Main Street," said Joseph Barbara of Finbars Italian Kitchen. "With a capital F."
Woody Woodruff, of Woodruff Hair Design is among those who are concerned about the parklets' impact on available parking. "I'm not against them until people can go back in," Woodruff said. He said the parklets were necessary when people couldn't go inside restaurants.
"It's everybody's parking—all the businesses and restaurants," he said.
"We don't have parking structures and big lots," Woodruff said.
"We have less parking than in 1977," said Woodruff, who said he was on the parking commission at that time.
(Seal Beach does not currently have a parking commission.)
Chamber of Commerce President Rob Jahncke personally thinks the parklets are a good idea.
"It just kind of fits with the beach vibe," he said.
Jahncke said some details have to be worked out so that no merchant is totally hidden by a parklet.
Woodruff had also expressed concern about businesses being hidden by the parklets.
"We need to make sure we're doing things that are suitable for everyone," Jahncke said.
He said maybe not all restaurants would want parklets.
Jahncke said he thinks the parklets would be good for customer traffic. "Which is an overally win as I see it," Jahncke said.
Last month, Community Development Director Les Johnson said parking needs to be considered.
Johnson said both  the Coastal Commission and businesses are likely to be asking questions about parking.
District Two Councilman Thomas Moore of College Park West asked about the impact of the parklets on local businesses.
He said he had spoken with a number of businesses on Main Street. He said a few businesses had expressed concern over the loss of parking near their retail or service shops.
"There are also a number of them that have expressed the exact opposite," Johnson said.
He said from his standpoint, the vast majority of businesses he had spoken with support the parklets. According to Johnson, support has come from both restaurateurs and retailers.
Moore asked if staff had thought about what the parklets would look like. Would the city use a formula for businesses based on capacity? "How would that work?" Moore asked.
Johnson said there would be a handful of designs. According to Johnson, the city would need to ensure that the parklets were aesthetically pleasing and safe. He also said they would have to be flush with the sidewalks.
Johnson said the city had seen parklets that are not used in the early afternoon and evening hours—and had seen the opposite.
He also said the city was not going to accommodate everyone in the three-black segment of Main Street.
District Three Councilman Mike Varipapa said he thought the parklets had been a big benefit overall for the city.
Varipapa said he thought eating on the sidewalk is a good thing for people and businesses.
"I think the public generally likes the parklets, but I think there needs to be a set of parameters for it," Varipapa said. "You can't put up what you want willy-nilly, if you will."
Varipapa suggested an ad hoc committee to look at the issue.
"The discussion needs to be more global than three, four, or five of us saying 'we like them; therefore we get them,'" Varipapa said.
District One Councilman/Mayor Joe Kalmick said the feedback he had received had been generally positive.
Kalmick said many of the comments in opposition to permanent parklets had come from businesses that had previously opposed farmers markets and anything that would take away a single parking space.
Kalmick wondered how many restaurants with existing parklets would want them once their businesses were allowed to reopen at full capacity.
Kalmick said he thought that if the city made a presentation after studying the issue, some of the objections would vanish.
Kalmick, who used to own a frame shop on Main Street, said that he never had a customer say they couldn't find a place to park eventually.
"Eventually," said District Five Councilwoman Sandra Massa-Lavitt.
Kalmick said they had to get people to stop thinking about just their own situation.
Massa-Lavitt said she was initially against keeping the parklets, but the more she thought about it, the more she started imagining what could be out there.
She said she would like to stop calling them parklets and start calling it "al fresco" dining. She said she wanted it to be like the European villages with dining on the sidewalk.
Councilman Moore said one concern he had was whether the Coastal Commission would allow Seal Beach to renew the parklets.
He asked city staff how they anticipated the Coastal Commission would look at the issue.
"You really don't get feedback from Coastal staff," Ingram said. She said CCC staff members want cities to submit applications for Coastal Development permits.
"Then they'll start giving you some feedback on it," Ingram said.
Johnson said that until the city has Coastal Commission approval city staff would be challenged to have a clear direction.
District Four Councilwoman Schelly Sustarsic of College Park East said she has had trouble driving down Main Street to pick up the Sun with all the parklets.