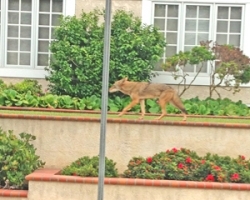 Constituent concern about Seal Beach's coyote problem apparently prompted Mayor Ellery Deaton to say that she would arrange a town hall meeting on the subject. A specific date has not yet been set. Deaton said staff was working on a schedule for a town hall meeting.
"For now we have Ted Stevens, animal control, coming to meeting to give presentation on the coyotes. Aug. 11th," Deaton said. That is the date of the next City Council meeting
Deaton met with her constituents recently at Javatinis Espresso on Main Street, for a "Meet Your Mayor" event she holds from time to time at various Old Town coffee shops.
Coyotes were the primary concern of residents who attended last week's meeting.
Ideas for addressing the problem included setting up feeding stations, trapping, and a birth control program.
"Are they going to do anything about the coyotes? I'm up to here with them," said Flo Bursinger, a Javatinis staff member who came in on her day off to raise the coyote issue.
Deaton said she heard that the California drought was a factor in coyote activity.
Deaton said a friend of hers, the former mayor of Arcadia, recommended against shooting coyotes. She said it doesn't work.
Speaking at a coyote awareness meeting last year, Ted Stevens, manager of Long Beach Animal Care Services said coyotes breed more rapidly if the population is reduced by trapping and killing them.
At the Saturday Javatinis meeting, Skip Cook, a regular customer of the coffee shop, agreed that you couldn't have people firing live ammunition at coyotes.
Deaton said the city could hire someone to trap and kill coyotes. Deaton said she believed it would cost $2,000 to $3,000 per animal.
Cook advocated trapping and relocating coyotes.
Deaton said you can't move coyotes, by law.
"Not yet," Cook said.
One idea that was raised was setting up feeding stations.
"I like the feeding station only because it's something we can do," Cook said.
However, concerns the stations would attract more coyotes seemed to put an end to that idea.
Deaton said she liked the idea of birth control.
Bursinger said she only lets her cat out in the daytime.
Deaton said the coyotes are out in the daytime.
Sharman Snow, a local animal activist, said Bursinger should keep her cat indoors at all times.
Snow said she wants the city to post large banners warning the public that this is a coyote area.
Deaton said she has asked about using wolf urine to deter coyotes. She said the wolf urine would have to be sprayed once a week.
Snow said that some people were using fox urine to deter raccoons. Unfortunately, according to Snow, the fox urine attracts coyotes.
Snow also wanted to know why Naval Weapons Station officials are willing to poison squirrels but unwilling to kill coyotes on the Navy base. Coyotes have allegedly been seen going under the fence surrounding the Navy base, giving them access to the surrounding community.
Deaton said the fencing at the Seal Beach Naval Weapons Station was being repaired.
"Last November we had the experts in to a Town Hall meeting and we should stay with what they have said works: Never feed any wild animals, including rabbits and birds; keep your pets and their food and water inside; haze any coyote you see to reinforce that we are the dominant animal and they are not," Deaton told the Sun. "The coyotes are looking for food and water.  The drought and freeway construction have pushed them down to us.  Remove the food and water and they will go somewhere else looking for it."