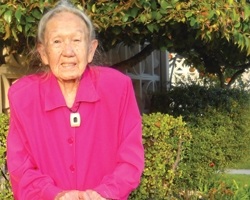 Chizuru Boyea's father died in 1939. He had a lavish funeral. A few years later, FBI agents asked Boyea where her father was. World War II was on and the FBI was supposed to know the locations of Japanese Americans. Yet they couldn't find Boyea's father. Boyea told them her father was dead.
"Can you prove it?" they asked.
"I always thought that was funny," said Boyea, 91, a resident of Leisure World Mutual 11.
A few days before the 68th anniversary of the presidential order that sent her and more than 100,000 other Japanese Americans to internment camps, Boyea—"Chiz" to her friends—talked about the events that led her to Manzanar, the most famous of the 10 internment (some say concentration) camps.
"Manzanar was the first camp they made," Boyea said.
President Franklin Delano Roosevelt signed Executive Order 9066 on Feb. 19, 1942. The text of the order can be found at the Smithsonian Institution Web site "A More Perfect Union," which takes its name from a Smithsonian exhibit about the internment camps. Executive Order 9066 did not identify any race or ethnic group by name. It did not mention foreigners.
It gave the secretary of war (in those days it was called the Department of War, not the Department of Defense) authority to exclude "any and all persons" he from an area (which was apparently up to the secretary to define), subject to the secretary's discretion.
Boyea's story started before Executive Order 9066.
A California girl, Boyea was delivered by a midwife in 1919 in a fishing village on Terminal Island. Most of the residents were Japanese. She went to school in what was then called East San Pedro. She couldn't speak English when she entered school, but she could be the end of first-grade.
In 1940, after graduating Long Beach City College, Boyea went to school in Kyoto, Japan. It was April. Boyea said that in Japan, everything started in April—the New Year, the fiscal year, the school year. Strangely, the American professors were gone.
Boyea didn't know that tensions between the United States and Japan were already severe. According to "Rise to Globalism" by Stephen Ambrose, the U.S. had submarines prowling Japanese waters—and the Japanese government was not happy about it.
It was around this time that the U.S. government froze all Japanese assets in the U.S.
Boyea boarded a boat back to the United States. It was bound for San Francisco. However, for reasons that remain a mystery, the U.S. military were unable to find the boat.
Eventually, the boat arrived in San Francisco. There, authorities confiscated Boyea's passport.
Pearl Harbor had not yet been bombed.
She went to Palm Springs, where she worked in a flower shop with relatives. People were always friendly—until Dec. 7, 1941. On that day, people who usually said hello didn't speak to anyone in the flower shop. It wasn't until she got home that evening that she learned about the Japanese attack on Pearl Harbor.
Boyea returned to Terminal Island sometime after Christmas, but before February 1942.
"We had to turn in our cameras, our short waves—we had to turn in our flashlights," Boyea said.
Boyea helped her family register with the U.S. government.
Despite the apparent security concerns about Japanese Americans, Boyea and a friend shared a job as the domestic servants of a Naval intelligence officer. He told her to get back to Terminal Island because the Navy was picking up all the fishermen. In fact, it was the FBI that was rounding up Japanese fishermen. The island was left to women and children.
"I think the average age was 15, because I was one of the older ones," Boyea said.
Then the government gave everyone 24 hours to leave the island. She went to stay with an "uncle," meaning a cousin, when she had her run-in with FBI agents seeking her late father.
Then FDR "evacuated" Japanese Americans. "So we were one of the first [families] to go to Manzanar," she said.
Boyea didn't know it, but the internment only happened on the mainland in the western United States.
"Fortunately, the Japanese American community in Hawaii was spared the indignities suffered by those on our mainland," wrote Gerald Ford in his 1976 proclamation, "An American Promise."
Manzanar was so new, the barracks were not complete. There was no plumbing. "We stuffed our mattresses—I think with straw," Boyea said.
Boyea had no pictures of that period of her life. Remember, cameras had been confiscated before "evacuation." She said one internee, a professional photographer, did make a crude camera—so some photos do exist.
Everyone in the camp signed up for work. No matter what their job was, everyone got the same pay: $8 a month. Even the camp doctor received $8 a month. Boyea said the doctor was sometimes allowed to leave—with an armed escort.
Boyea worked in the library. The head of the Los Angeles Public Library system sent Manzanar an entire branch worth of books. Boyea taught fifth-grade, as a volunteer. Half the students understood fractions, the other half long division. Apparently the volunteer teachers were good at their jobs: "They all got to the next grade before September."
Boyea remembered working nearly 24 hours a day. She didn't know how she was able to maintain that pace.
Her sister, Ritsulco Nakajo (later Mrs. Weinstein) transcribed the minutes for what amounted to the city council of Manzanar. She was also among the first to leave the camp.
Boyea said that once her sister got to Chicago, she was an American citizen again and free to go anywhere she wanted—except the West Coast.
Boyea got out in 1943 or 44.
Eventually, she ended up in New York. She worked in the New York library. She went to library school. Walt Disney gave the commencement speech.
Then Boyea returned to Manzanar—not as a prisoner, but to help other people prepare to leave the camp. She interviewed for a job at Sarah Lawrence University between trains to Manzanar.
She was back in Manzanar when the atomic bomb fell on Hiroshima. "I don't think they would have dropped the bomb on Germany," Boyea said.
Ironically, a friend of hers from Kindergarten was trapped in Japan during the war. The woman was in Hiroshima when the U.S. firebombed Tokyo and in Tokyo when the A-bomb fell on Hiroshima. The war was nearly over for everyone.
After the war, Boyea married. She had five children and 12 grandchildren. She has outlived the rest of her family.
On the 34th anniversary of Executive Order 9066, President Ford issued "An American Promise," apologizing for the internment.
He wrote that the order was for the sole purpose of prosecuting World War II. "Because there was no formal statement of is termination, however, there is concern among many Japanese Americans that there may  yet be some life in that obsolete document," Ford wrote.
He thought it was time to remove all doubt. So Ford declared that the "authority conferred by Executive Order 9066" ended on Dec. 31, 1946.