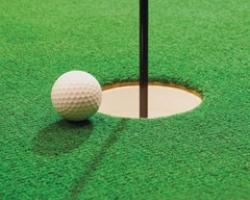 Event generates funds to aid police services and equipment
For The Sun
The fourth annual Seal Beach Police Foundation Charity Golf Tournament will be held Monday, Nov. 20, at Old Ranch Country Club, located at 3901 Lampson Ave. in Seal Beach.
The tournament, the single largest fundraiser for the Foundation, will start with registration at 8 a.m., and an 11 a.m. shotgun start.
Entry fees are $900 for golf foursomes, $225 for golf singles. Corporate and Sponsorship packages are available as well from $500 up to $10,000.
Those who'd like to participate should act swiftly to register as the event has sold out every year, and is on track to do so.
Every year golfers have to be turned away, and the Foundation wants all who have participated or who wish to—register now.
Greg Phillips, the vice-president of the SBPF, said, "We are excited and so grateful that we are continuing the tradition of our beloved golf tournament, as it has become known regionally in golf event circles as the 'best of the bunch.'
"As always, we have worked closely with Old Ranch and they have been great. The goal is not only to have a successful event this year, but to solidify it into the signature event for the Foundation."
Many of our historic and new donors including, G & M Oil and Roger Dunn Golf Shops have all once again stepped up to provide significant sponsorships for the event.
The mission of the Foundation, which launched in July of 2014, is "to provide support to and for the benefit of police officers and employees for the Seal Beach Police Department, including facilitating fundraising efforts and providing funding, training, equipment and resources for the Seal Beach Police Department."
More simply put, the vision is to "ensure a safe Seal Beach that is good for people, good for business, and good for life," said current President Tom Stretz.
Interim Police Chief Joe Miller said, "The police are thrilled to have the Foundation truly continuing the golf tournament as a traditional event. The department and our corporate allies are ready to play some golf, and have a lot of fun. We are so very grateful for the good work the Foundation has done since its formation."
The Foundation has made significant contributions to officer safety.
As of August, of this year, the Foundation has ensured that all sworn officers have safety/bulletproof vests, which are designed to increase body mass protection, re-distribute weight from the hips to the upper torso for equipment, improve accessibility to various police tools and devices, and enhance officer's physical comfort and ergonomic stability.
The Foundation has now nearly "vested" the entire team.
Also, special LED lights in place of chemical flares have been deployed for use of various traffic stops and check points, which improves officer and support staff safety, and it is superior for the environment.
"The golf tournament is the primary source of funding, so whether you golf, please reach out to Greg and our website to see how you can get involved to help us provide tools and resources to keep our community and officers, safe," said Seth Eaker, chairman of the grants committee said.
From the Behavior Analysis Training Institute, to Dr. Souther's Anti-Terrorism seminar and sponsoring VIPS to go to specialized community police training, the SBPF distributes funds generated for the core mission.
The Foundation has authorized items like special spike strip deployment technology and fingerprinting and DNA swabbing kits for kids, which are kept by parents.
For more information about the golf tournament, or to fill an entry form, call 562-799-4100 ext. 2238 or visit the Foundation's website at www.sealbeachpolicefoundation.org.