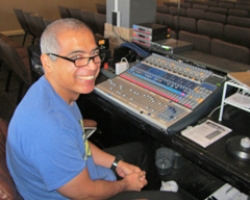 Volunteers (lighting, video, photography, hair and makeup, costumes, scene setup, ushers.) are needed for the acclaimed annual Charles Dicken's "A Christmas Carol" production, which runs for free to capacity crowds next month at Sunset Beach's Calvary Chapel of The Harbour.
The play, which will feature nearly 100 actors, "offers a terrific opportunity to be involved in a major production," said veteran soundman Ben Garcia.
"It's a really fun opportunity which will give you production experience you'll never forget," he said.
If you would like to get involved, contact Brenda Garcia at 562-592-1800 or email her: info@ccoth.com. The classic Christmas play will be performed on Dec. 11, 12, 14, 15 and 17 at 16450 Pacific Coast Highway, #100, Sunset Beach.