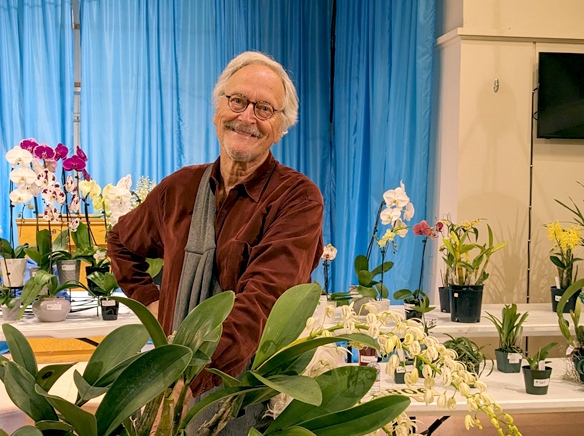 For the first time since 2019, the Long Beach Amateur Orchid Society held its annual auction fundraiser. With a couple dozen enthusiasts on hand eagerly bidding on a variety of plants, club members are getting back into their regular setting since COVID designated meetings to online.
Orchids seem to hold a special place in the flora world. Over the decades, orchids have permeated culture and pop culture. From the 1929 Greta Garbo film, "Wild Orchids," to the 1998 non-fiction book "The Orchid Thief," by Susan Orlean, Orchids, with their colors, symmetry and overall beauty have found a special place in people's hearts.
Seal Beach resident, Gary Putnam is a long-time member, and current vice-president, of the LBAOS. Members like Putnam are far closer to experts at this point, having grown and cultivated Orchids for many years. But Putnam said that anyone can get started in Orchids, due to the variety of the plants and the ease with which some can be grown.
"Southern California … the best growing area for cymbidiums," Putnam said. "They like warm temperatures and cool nights, well that's what we get along the coast."
According to Putnam, Orchid growing in the United States after World War II because operations in countries like Belgium and the UK, traditionally big Orchid growers, were devastated. Much of it transferred to the East Coast, but Los Angeles and Long Beach saw a big jump in orchid growers. Another Orchid grower's club, the South Coast Orchid Society, Inc. started in 1950 and is still going today.
Some Orchids are very specific and can be challenging. Some Orchids grow on mountains where there is very little rain, but where air rises and forms clouds, which are referred to as cloud forests. Some orchids can thrive simply with the water they get with the moisture in the air from the clouds.
"Like anything in life, you get people who like that challenge," Putnam said.
One long-time member of the club is Jim Hoyle of Gardena, who said he collects species, which are Orchids that are native to areas on their own. So, there is no cross-pollination, essentially a pure breed.
"I was interested in what comes out of nature … and then try to grow it," Hoyle said.
By collecting those species, Hoyle and others like him have the opportunity to cross pollinate certain species and create different types of hybrids. Hoyle said a grower can create something almost new.
"So, I have, over the last 10 years or so, started picking up a few here and there. There are some really pretty plants," Hoyle said.
Over decades of Orchid growing, growers have been able to cross breed flowers and develop new hybrids. They can take certain species and cross breed them to be more resilient. Then they can be taken home by people who may feel they are bad at keeping flowers and still thrive.
People can also grow Orchids that fit their life. Those who like to be indoors can stick to plants that thrive indoors, such as the Phalaenopsis (Moth Orchids), while those who like outdoors can stick with outdoor plants. Putnam said he now prefers outdoors and even got rid of his greenhouse. He mostly works with plants who are better suited outdoors. Hoyle said he doesn't have a greenhouse, but does have a shade house. It allows rain and moisture to get to the plants, but allows him to work with species that don't like too much light. Current LBAOS President Norman Nakanishi said the return of the auction fundraiser is a good sign and they have already received interest from a few potential new members with their outreach efforts. Nakanishi, a member of several different clubs said the COVID shutdown led to some clubs closing up altogether.
"We kept this club going … we did zoom to help keep our members together during COVID," Nakanishi.
Nakanishi said he has had an interest in plants since high school and has cultivated and hybridized many different species of plants. As for Orchids, he said they are unique in that they attract insects by mimicking insects. The insect lands on the flower, thinking it is going mate, only to leave with just the pollen on its back.
The Orchids have evolved with the people who have taken an interest in them. And as culture and pop culture seem to indicate, they have found a special place in our hearts.
"They're [Orchids] a diverse, colorful group, they can range from little miniatures on up to enormous specimens," Nakanishi said.
For more on the club visit lbaos.org.