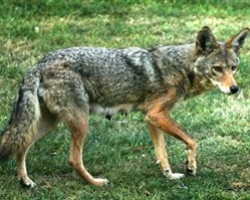 By now, most people in Rossmoor know that we have a serious coyote problem.  Although the problem is county-wide (and actually nationwide), it has gotten much worse this year in Rossmoor.  In fact, this year has been the worst year in my memory (we've lived in Rossmoor for over 25 years now).
We have lost innumerable cats to coyotes over the past years.  This year has seen a significant escalation of coyote predation with pet dogs now being attacked and killed in their own backyards.
From May of this year to the present, we've seen 21 coyote kills of dogs and cats in their own back yards, an additional 11 attacks on pets in their own backyards and 38 sighting of coyotes on Rossmoor residential streets, parks and school grounds.  And since August 2009, we have had at least two incidents in Rossmoor backyards where a coyote charged a resident.
One of those incidents was in my backyard last August when a coyote charged my wife, who was holding our small Silky Terrier, when our 30 pound wire fox terrier cut in front of the coyote (saving my wife from a potential attack).  Our wire fox was bitten in the neck by the coyote (he's fully recovered), but then he bit the coyote back and chased the coyote out of our yard.
A volunteer group has formed in response to this threat, the Rossmoor Predator Management Team.  They have done an admirable job in communicating the problem and attempting to get Orange County and the Department of Fish & Game to address the problem.
With the help of Supervisor Moorlach's office, they have actually gotten Orange County Public Works to repair and heighten fencing and got Caltrans to clean out (at least partially) some overgrown vegetation.  Caltrans has replied in writing that there are no coyote dens in their right-of-ways behind Martha Ann Drive and coyotes only use that area in transit.  Rossmoor residents have recent photographic and video proof that Caltrans is misinformed and that coyotes frequent the overgrown brush behind Martha Ann Drive along the freeways.  The video was recently aired on Channel 2, Channel 5 and Channel 9 television news.
The Predator Management Team, the Rossmoor Homeowners Association and the Rossmoor Community Services District have asked Orange County to look into trapping the coyotes that have lost their fear of humans and are now a threat to our pets and even our residents.  We have been told by the Supervisor and Orange County Animal Control that they will not do any trapping and will not take any direct action, referring Rossmoor to the Department of Fish & Game.  The DFG has at this time refused to take any action.
In fact, the DFG has gone so far as to state in writing that they will not take any action until someone in Rossmoor is actually bitten by a coyote.
Our neighboring city, Los Alamitos has trapped coyotes this year. Huntington Beach has also trapped problem coyotes, as have other cities in Southern California.  However, the RCSD is not legally authorized to exercise animal control responsibilities, including trapping coyotes.
So, representatives of the Rossmoor Community Services District approached Supervisor Moorlach and asked him to support activation of the RCSD's latent power to provide animal control services and to transfer the current county budget for animal control services to Rossmoor.  Since the county refused to take any action, the RCSD requested authorization to assume animal control services so that they could take direct control of the coyote problem and protect the community.
Unfortunately, Supervisor Moorlach informed the RCSD that not only would Orange County not trap the problem coyotes, but now they would not support letting the RCSD take over animal control services so that the RCSD could address the problem directly.
If the RCSD assumed responsibility for animal control services, it would have significant benefits in addition to coyote management.  The RCSD would be free to contract with the most convenient animal control provider (in our case, Long Beach, whose facility is about a mile from the north end of Rossmoor, would be the most likely provider).
As a result, Rossmoor would be serviced by animal control that would drive less than a couple of miles instead of the 15 miles one way now required for Orange County to provide service.  And if a Rossmoor resident lost a pet, they would be able to go to the shelter located off Spring, instead of the Orange County shelter located in Orange.  And this would be a logical extension of Long Beach's contracted animal services since they currently provide services to our neighbors, Seal Beach and Los Alamitos.
The county is putting us in a Catch 22 situation.
They have told us they won't trap coyotes and they are now telling us they won't let the RCSD assume animal control services so that they can trap problem coyotes.  We thought that the county wanted to get out of the business of providing municipal services to Rossmoor.
If the RCSD takes over animal care services, Orange County will no longer have that responsibility and will no longer have to field calls about lost pets and coyote threats.  And Rossmoor will receive better and speedier animal control services and will be able to take appropriate direct action against problem coyotes.
If you agree, please drop a note to Supervisor Moorlach (district2@ocgove.com or by mail to Supervisor John Moorlach, 2nd District, 10 Civic Center Plaza, Santa Ana, CA  92701) and let him know that you want Rossmoor to take local control of its animal services.
Eric Christensen is a Rossmoor resident.