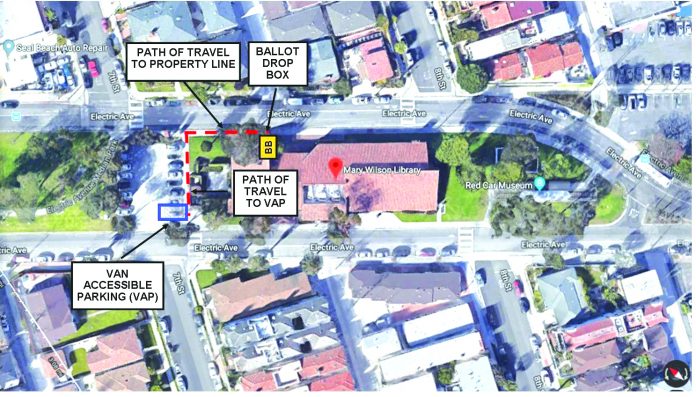 Lease approved for Ballot Drop Box at Mary Wilson Library for 2020 Election
Mary Wilson Library will have a permanent ballot drop box installed in time for California's March 3, 2020 primary election under a lease agreement approved by the Seal Beach City Council earlier this month.
The ballot drop box is one of many new ways voters will be able to cast their ballots as the Orange County Registrar of Voters, the agency that oversees elections, shifts to Vote Center elections.
Starting in 2020, voters will no longer report to neighborhood polling stations to cast ballots on Election Day. Instead, every one of the county's roughly 1.6 million registered voters will receive a vote-by-mail ballot.
You'll be able to cast your vote-by-mail ballot in multiple ways – by sending it in the mail, putting it in a secure ballot drop box or by taking it to any of the more than 180 Vote Centers that will be established across the county. You'll also be able to vote in person, register to vote and more at the Vote Centers which are described as "your one-stop location for all things voting" on the Registrar's website. The Vote Centers will be open for ten days prior to Election Day including on weekends.
Locations for Vote Centers and other ballot drop boxes are still being determined as the Registrar is working with cities to finalize sites.
At the December 9 meeting, city council authorized the City Manager and City Clerk to sign the five-year lease agreement with the Registrar to install the drop box at the library at 707 Electric Avenue. According to a map included with the lease agreement, the drop box will be located outside the north side of the library.
The metal drop box weighs 1,000 pounds, is 53.5 inches tall, 65.4 inches wide and 53.3 inches deep. It features both a walk-up slot and a drive-up slot option for voters to drop off ballots. The slots will be locked and unavailable until the 29th day before an election. On that day, they will be unlocked and available 24 hours a day, 7 days a week until 8:00pm on Election Day.
The Registrar will incur all costs associated with the installation and maintenance of the ballot drop box, according to the city's staff report.
Electioneering is not permitted within 100 feet of the drop box during the election period. Electioneering means "the visible display or audible dissemination of information that advocates for or against any candidate or measure on the ballot," according to the lease agreement.
For more information about Vote Center elections, visit ocvote.com. The Registrar is also hiring roughly 1,200 temporary workers to staff the Vote Centers. According to a posting on governmentjobs.com, workers will get paid between $17.32 and $20.40 an hour for the job.