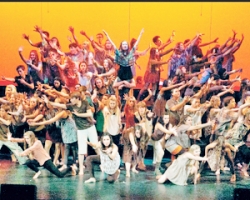 The Los Alamitos High School Choir Program, under the direction of David Moellenkamp, takes to the stage for their first series of concerts of the new school year on October 16-18 as students perform some of Broadway's most popular and beloved songs.
"We're performing a mix of new and classic songs including selections from Wicked, Beautiful, Copacabana, West Side Story, Nine and other popular Broadway shows," said Moellenkamp.
"Our choir program is enjoying a surge in popularity, and we'll also be debuting a new intermediate mixed choir at these shows.  That brings our total performer count to almost 600 students enrolled in one or more choirs, and we're excited that this is going to be the first of many large scale productions for us," he added.
On Broadway marks the return to the stage of two of the program's national champions from last year.  In April, the program's advanced mixed group, SoundFX, and the program's advanced women's group, Soundtrax, both were named National Grand Champions after performing at the Grand Old Opry in Nashville.
Because of the surge in the number of performers, tickets are going to be more popular than ever, and the public is urged to get their tickets early to avoid being shut out. Tickets go on sale to the general public on October 6.
On Broadway takes place Thursday and Friday, October 16 and 17 at 7 pm and on Saturday, October 28 at 2 and 7 pm. Tickets are $15 for reserved seats and $12 for general admission balcony seats.
All performances take place in the Margaret Webb Performing Arts Center on the campus of Los Alamitos High School, 3591 Cerritos Avenue in Los Alamitos.
For tickets and information, go to www.losalamitoschoir.com.
For questions, special needs of wheelchair seating, please send an email to tickets@losalamitoschoir.com.