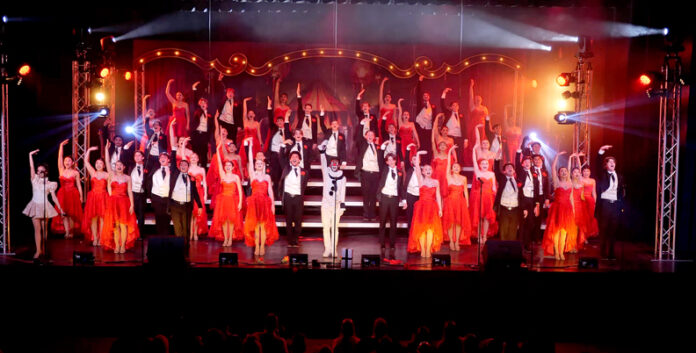 By Sophia Youngs
Los Alamitos High's choirs "FX" and "Trax" win big at Choir Nationals in New York City.
"Nationals was a once-in-a-lifetime experience," Kate Shimburko, member of "Sound Trax," said. The "Sound Trax", consisting of over 50 talented high school girls, took to the stage on March 17 with a competition set based on the hit book series and Netflix show "Bridgerton." The team performed phenomenally, earning excellent marks and winning 1st Runner Up and Best Costumes.
"It was just a blast even to be there," Sawyer Mulligan, member of "Sound FX", said. "Sound FX", the top choir available at Los Al, spans over 60 highly skilled boy and girl members, and took first place, adding to their already 12 National Grand Championship titles. The set, an interpretation of the famous Italian opera "Pagliacci", tells the story of the clown Pagliacci, played by Arron Meyers, a freshman, and his determination to find love in the female clown, played by Jay Garcia. The competition set was a hit with judges, audience members, and viewers watching at home; "Sound FX" won Best Vocals, Best Show Design, and Best Costumes, as well as Grand Champions.
"I really enjoyed being a lead this year. The love, the process and having the ability to put my own creative spin [on my character]," Garcia said.  David Moellenkamp, who has been in the teaching industry for over 30 years, is the current Director of Los Al's choir, alongside Moana Dherlin, and lead Production Manger and Choreographer Cara Jennings. The three worked for months to create not only a unique competition set but also one that tells a story many viewers can relate to.
Although the two performing groups rehearsed for hours to best prepare for the competition, members were given ample time to explore the city, including Times Square, The Statue of Liberty, and watch two Broadway musicals including "Hadestown" and "MJ: The Musical".
"Being able to travel and experience new sights with our choir community was so incredibly special and a memory like no other," Shimburko said. Los Alamitos Show Choir's purpose is not only to entertain audiences but also to bring performers together, like a family.