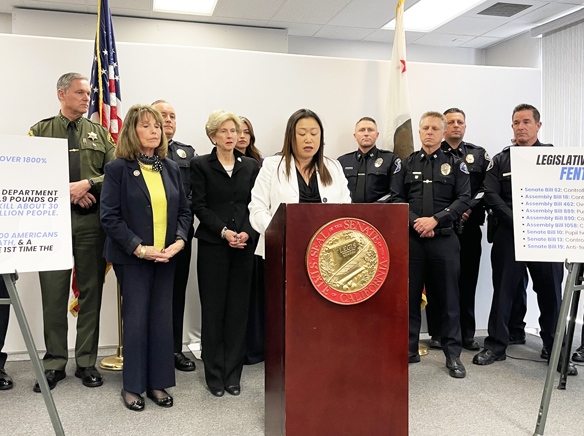 A gathering of local legislators and top area law enforcement officials gathered in Seal Beach on Thursday to express frustration at the California State Senate for failing to pass meaningful legislation to address the growing problem of fentanyl.
"Fentanyl is the leading cause of death among United States adults ages 18 to 45. California saw an increase of 2,294% of Fentanyl-related deaths in the last six years and Orange County over 1800%, said State Senator Janet Nguyen.
The State Senate recently rejected Senate Bill 62, authored by Nguyen, which she said "would have increased penalties against drug dealers carrying one kilo, which is 2.2 pounds, which equates to about 10,000 pills."
The state Senator held up a plastic bag with 300 packs of the "Smarties" candies to demonstrate a bag full of fentanyl.
She said the Orange County Sheriff's Department confiscated enough fentanyl last year alone to kill 30 million people.
In the past decade, she added, authorities confiscated enough fentanyl to kill 102 million people. That is enough to wipe out California and "two times over."
One of the primary reasons why legislators in California have been hesitant to pass legislation to combat the fentanyl crisis is the complex nature of the problem.
Fentanyl is a synthetic opioid that is significantly more potent than other opioids, such as heroin and morphine. It is often mixed with other drugs, such as cocaine or methamphetamine, making it difficult to detect and track.
Additionally, fentanyl is often manufactured and distributed illegally, making it difficult for law enforcement to control its spread.
Nevertheless, Nguyen said it is time to act.
Just last week the Senate rejected a bi-partisan fentanyl-related bill by Sen. Tom Umberg, a former Assistant U.S. drug czar, adding to frustrations.
"This is not a Democratic or Republic issue," she said. "This is about our communities, our children and our families," said Nguyen.
"It is incredibly frustrating to see a number of great bills this year, taking steps in the right direction to combat the fentanyl epidemic. But each of them is being killed one by one."
"We will not see change until we can change California law," said Nguyen. "This can only be achieved with community support and bipartisan legislation."
Former Sen. Pat Bates, who championed the cause during her days in Sacramento, lauded Orange County Sheriff Don Barnes for his department's efforts.
In fact, she thanked the large cadre of Police Chiefs and law enforcement officers present and said "we need to give our police officers the resources they need to enforce the law.
"We need stronger laws that hold drug dealers accountable for the tragic and senseless deaths. We can no longer ignore this issue."
She urged communities to unite to bring public attention to the issue. "Party lines have no place in the fentanyl epidemic."
Assemblywoman Diane Dixon said, "our families and our children have become the victims of the terrible scourge of this disease."
Dixon said she has authored another bill with Umberg to require the drug Narcan to be available in schools, college campuses, stadiums, and concert venues.
Perhaps one of the most emotional statements came from Perla Mendoza, the mother of a 20-year-old, raised in Los Alamitos, who died suddenly after unknowingly swallowing a pill of pure fentanyl.
"My beautiful son died one night after taking one pill," Mendoza told the group.
"He was deceived by someone who seemed trustworthy. "He thought it was prescription-grade Percocet," she said. "It was not. It was pure fentanyl and a lethal dose."
Mendoza said she tracked down the man who sold him the counterfeit pill. "I begged him to stop. This person continued with business as usual, with no regard for the loss of human life."
Mendoza said she has embarked on Project Eli, a campaign designed around her son's tragic death to bring awareness of fentanyl's dangers to students of all ages.
Orange County Sheriff Don Barnes attended the event and went straight to the point.
"I will tell you; I make no apologies for whom I'm going to hold accountable because they make no apologies for their inaction in the California State Legislature," Sheriff Barnes said.
"This is a serious public health crisis that, if not for COVID, this would be the number one issue and is now becoming the number one issue our nation is facing," he said.
"Less than 10 years ago 50,000 people lost their lives to drug-related deaths in this country," the Sheriff said.
Back then, "of all the lives lost in the nation, only 4% were the result of fentanyl. Five years later in 2018 that increased tenfold to 40%. And here we are five years later almost doubling again. That's 73% fentanyl. Two out of three people who lose their lives to drug-related deaths will be the result of fentanyl," the OC Sheriff said.
According to the Centers for Disease Control (CDC), 107,000 Americans lost their lives to drug overdoses in 2021, the latest provisional mortality data available.
The federal government has created its own "Fentanyl Response" program, the CDC website claims, and the Food and Drug Administration recently authorized Narcan sales over the counter, which will soon make a drug to fight fentanyl overdose more widely available.
The Sheriff said fentanyl overdoses have become a problem here as well.
"For the first time in Orange County's history, it is the number one causal factor of death among those under the age of 18," Barnes said.
"This is not a shock but one that is absolutely preventable," he said, condemning the inaction of the state legislature to enact a policy that can help us keep our constituents safe.
In addition to legislators, a large group of area police chiefs, including Seal Beach Chief Michael Henderson and Los Alamitos Chief Michael Claborn, attended the press conference in a show of support.
"I'm here before you today to show support for bipartisan legislation which seeks to combat the growing fentanyl epidemic that has devastated both large cities and small communities like Seal Beach," said Henderson.
"The city of Seal Beach has not been immune to the terrible impact of this epidemic. During the last few years, we've seen tragic overdoses involving those who have either intentionally or mistakenly ingested fentanyl," he told the group.
"We have shared in the pain with families who have lost loved ones. As a result, many people in Seal Beach and other small communities across the country are left feeling helpless and overwhelmed by the scale of the crisis," he noted.
The event was held at the Seal Beach Police Department and was also attended by Mayor Tom Moore and council members Lisa Landeau, Joe Kalmick, and Nathan Steele.
"This issue isn't going away," said Bates, now retired, but who is still recognized as a crusader in the Senate for tougher enforcement laws.
"We need real solutions to this unrelenting Fentanyl crisis," she said. "Elected officials need to abandon party lines and pass meaningful legislation because every day we waste, Fentanyl takes more victims."