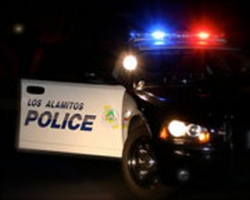 A Los Alamitos Police Department officer arrested a Santa Monica woman for child abuse and assault in late July after seeing her drop a baby to the ground.  The baby was 9 days old at the time.
Capt. Bruce McAlpine said he believed the suspect, Natasha Lundy, 20, was still in custody.
The Orange County Sheriff's Department Web site said Lundy was still in custody.
Her bail has been set at $100,000. Her next court appearance date is Wednesday, Aug. 31.
On Monday, July 24, police received a report of a woman swinging a baby around near Florista and Reagan. The call came in at 6:27 p.m.
"The first officer that was on the scene actually saw her swinging the baby around," McAlpine said.
The responding officer told her to stop.
She did not stop.
According to police, as she swung the baby, she dropped him to the ground.
The officer arrested the woman.
The infant, whose name has not been released, was taken to UC Irvine for treatment of life-threatening injuries.
McAlpine said the child is still alive.
Police called Child Protective Services. McAlpine said the child abuse agency took custody of the 9-day-old that night.
McAlpine said the Orange County District Attorney's Office has not yet filed charges in the case. He said there is a question of whether the suspect is competent to stand trial.
"It's very sad and fortunately the baby did not die as a result of being dropped on the ground," McAlpine said.