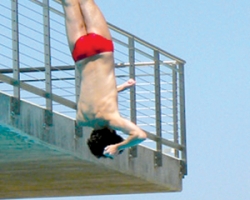 Los Al divers senior Sydney Czaus and junior Adam Payne both earned their highest score and best placement in the CIFSS Division I Diving Championships Thursday, May 12.
Czaus finished second with 515.25 points pulling up from 4th place at the end of the preliminary round.
The girls' competition was a very tight contest throughout the meet, with only 20.20 points separating Czaus from first place.  Czaus earned her highest scores on her inward one-and-one-half somersault in pike position for 57.60 points and 58.80 points on her back one-and-one-half somersault with two-and-one-half twists.
Payne finished 5th in the boys' competition with 481.50 points.  This is the best finish ever for a Los Al boy diver.
Payne's best total score for a single dive was for an inward two-and-one-half somersault in tuck position earning 68.50 points.  He even inspired one judge to award him with a perfect 10 on his inward dive in pike position.
El Toro sophomore Mark Anderson earned the top score of the day with 646.70 points—71.40 points ahead of silver medalist, Newport Harbor senior Clay Pinckney.
Anderson easily broke away from the pack when Pinckney stumbled on the board for his eighth dive.  The slip gave him zero points for an incomplete dive.
This opened the door for Loyola junior Justin Yeh.  Pinckney recovered in the finals rounds winning two of the final three rounds to reclaim second place from Yeh who claimed one round of the final three.
Pinckney is the top Sunset League finisher followed by Payne in 5th.   Payne had a lead on Aliso Niguel sophomore  Jacob Swansen in the Preliminary and Semi-Finals, but Swansen came back strong for the final three rounds.
Fountain Valley senior Stephen Nissen earned a spot in the finals finishing 15th.  Edison divers David Scrantom and Joey Grigsby and Fountain Valley diver Robert Smith all competed at CIFSS Division 1 for the first time.
Mission Viejo freshman Alexandra Caplan inched ahead of the preliminary round leaders in the semi-finals and was able to hold onto that lead through the final round to emerge victorious in the girls' competition.
She was ahead of Los Alamitos senior Sydney Czaus by just 4.85 points and Mission Viejo junior Samantha Adams by just 9.20 points at the end of the semi-finals.
The girls' competition was close throughout with only 62.60 points separating the top six divers. Besides Czaus, Fountain Valley junior Erica Curry is the only Sunset League girl diver to earn a spot in the Division I Championships.  She made it through to the semi-finals finishing with her highest semi-final score in her three years competing at the CIFSS Division I meet.
The top finishers from Division I meet up with rivals from Division II, III, and IV on Tuesday at the CIFSS Masters Swimming and Diving Championships in Irvine on Tuesday, May 17.  This is the final Masters Championships for Czaus and the first for Payne.