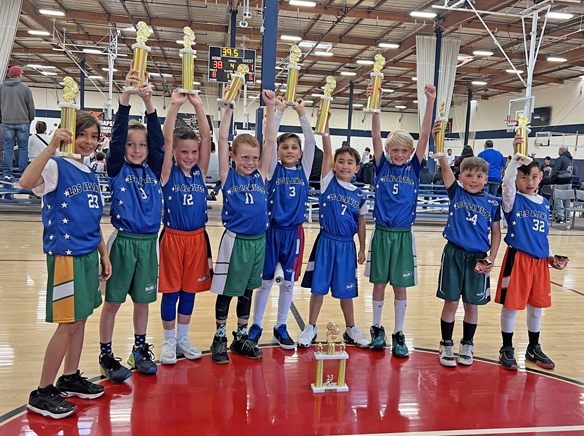 It was the first time the Los Alamitos/Seal Beach NJB fielded a Division 4 (2nd grade) All-Star team, so the league was breaking new ground. It worked out pretty well, as the young hoopsters went 4-0 and won the championship at their very first tournament.
The team took home gold in the NJB All Star tournament, held Feb. 25-26, at MAPs Sports complex in Garden Grove. They defeated a team from Centennial Hills, Nevada in overtime in the final.
"It was awesome to watch their faces," Head Coach Doug Wittman said.
The team won both games in pool play to get into the bracket semifinals, before winning two more to take the title. The NJB league had 28 1st/2nd grade division teams this year and the 10 players chosen for the all-star team came from those teams.
The new all-star team was only able to have three complete practices before the tournament, according to Wittman. He also noted that the team was playing on 10-foot rims for the first time. He said there was plenty of talent on the team, it was simply a matter of developing continuity.
"We focused a lot on defense," Wittman said.
Offensively, he said they tried to put players in positions that allowed for the team to get out and push the pace on offense. That seemed to be key as they were able to pressure teams with speed and fast breaks.
The Los Alamitos Youth Basketball League began back in 1969, under the name, Los Alamitos Youth Athletic Association and offered youth leagues in basketball and football, according to the website. National Junior Basketball began in 1984 and the Los Alamitos League soon joined them. Now drawing from mostly Los Alamitos and Seal Beach, Los Alamitos NJB offers leagues for youths in grades 1 through 8.
The new season is scheduled to begin on March 25. For registration and more information, visit losalnjb.com.