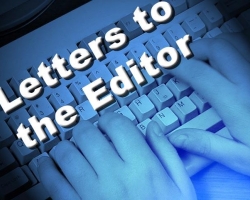 Resident thanks SB community

I wanted to get the word out via Sun News of my deep appreciation for this wonderful community of Seal Beach.
During my recent illness, Seal Beach residents came together in a way I didn't expect-or deserve, frankly.
From rides for my husband to the hospital to endless gourmet food deliveries, watering, housecleaning, and much, much more, I don't think I could have gotten this far without the "Seal Beachers" who came to help.
The generosity came from both sides of the political spectrum and friends, neighbors, acquaintances, and people I didn't even know were here for me.
"Thank you" sounds so inadequate.
I will have a very long and slow recovery and that is fine with me.
I'm thrilled to celebrate every single day as a blessing.

Dixie Redfearn
Seal Beach
Tribute to Seal Beach where local heroes abound

On a grassy area near Seal Beach Ocean and Pier,
Saturday mornings free exercise groups spread cheer.
After "Laughter Yoga" where did I park, oh dear!
I walk up and down, not a trace of my car here.
Then a couple walking their dog did appear,
Was it Ken, John or Jim who saw I was lost:
"Don't be afraid, we'll find your car…of course."
And in due time, we did!
I'll remember your small town kindness to a stranger,
All of my days.
I feel blessed in Seal Beach and its captivating ways.

Linda Missouri
Huntington Beach
We were told he would bring back the glider

There are many sad people in Seal Beach.
When Mahe's had been remodeling earlier this year, we had asked if the glider would be returned to its original place, and were reassured several times, by employees, that it would.
We also had asked for Toby to call us and we never heard back.
So far, no glider. It has been such an important part of the history of Seal Beach, with the gliders taking off and landing on 'The Hill,' and at the Seal Beach Airport.
Mr. Crawford had made gliders in the 1920's.
The Glider Inn restaurant has had two homes, the last being on 14th St.
The glider could have had an historical preservation designation had it not left, and the city, perhaps, could have helped with the maintenance of the glider, which we understand was constant, with the birds, and salt air, etc.
We hope it is somewhere, and not in a pile of metal somewhere, or being recycled as who-knows-what.
We wish Toby would have reached out to the residents of Seal Beach, many of whom frequent his restaurants.
In a small town, it would have been the better choice.
We are hoping to have it reinstated to its original glory, sometime soon, if the citizens of Seal Beach reach out to this newspaper, and Toby, the owner of Mahe's and Ola's, even if it means a new glider on the roof.

Nancy and Tom Hetherington
Seal Beach
Clarifying details from last week's Sun

Sorry to be a pest, but several of the statements in last week's Sun attributed to City Council members Massa-Lavitt and Ellery Deaton were factually incorrect.
The highlighted quote from the featured article on Massa-Lavitt was "Seal Beach will have paid all residual debt from its Redevelopment Agency in two years."
However, the City's Comprehensive Annual Financial Report indicates that the Redevelopment Agency's long-term debt was $3.8 million as of June 2016 and will not be fully paid off until 2025.
Separately, the article on the recent "Coffee with a Cop" meeting on Main Street reported that Councilwoman Deaton said that at the time she moved back to Seal Beach in 1993 that John Bahorski was the city manager.
However, Mr. Bahorski did not become city manager until 2001.
The city manager in 1993 was a Mr. Bankston.
Finally, in regards to paying for more police officers, the article reported that Deaton said one idea was to raise beach parking fees, but a resident reported the city to the Coastal Commission.
It is correct that the city's adoption of higher beach parking fees is currently on-hold pending Coastal Commission review.
However, this source of additional revenue ($265,000 per year) was not intended to fund more police officers, but rather to simply balance the budget.
This point was made very clear by the city's Finance Director on two occasions during the budget review and adoption with a slim $11,000 surplus last May and June.
I do not know whether the Sun erred in reporting what these Council members actually said, or whether they misspoke.
I do know that both Sun reporters and council members have very difficult jobs.
Both are inundated by a continuous flood of information on many different subjects. Occasional misstatements are inevitable.
Therefore, I submit this letter not to malign them in any way, but rather to simply correct the record as recorded in the Sun.

Robert Goldberg
Seal Beach