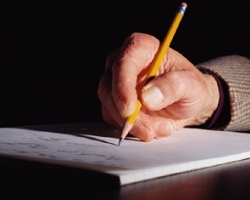 Thanks for 2011 review
I received the Leisure World edition yesterday.
Thanks, too, for yours and Charles M. Kelly's review of 2011. I truly liked the honest view of Charles M. Kelly's column about Dan Schaeffer.
Was pleased to read letters by Dave Lyon, Shala Callahan, Margarita Bahr.
Liked the article by Carol Franz.
I am glad we have a newspaper in our area that prints what we need to know.
Emma Gottlieb-Ellinoy
Seal Beach Leisure World
Another one rides the bus
Imagine, only $1.25 and we senior citizens can ride the bus all day, get off to shop, get back on, ride until we spot a good place for lunch, off we go to eat.
This doesn't mean we don't have to walk across a parking lot or a street on occasion, but not always.
For some residents of our community, without personal vehicles, $10 to $35 per hour to go shopping is no financial burden, while for others it is.
Our Orange County Transit 42A bus travels from Orange to Seal Beach seven days a week including holidays.
The end of the line is right across the sidewalk from Pavilion's in Seal Beach: no street to cross.
By using the bus, we also have access to a wonderful little nursery, full of beautiful plants and a whole lot of interesting shops to explore in our town of Seal Beach.
I have to ask: is there a reason our administration, in their article in our Leisure World paper Dec. 8, 2011, is trying to discourage our using the OCTA Buses that we have available to use?
The 60 Bus used to take our residents, via Westminster Avenue, clear into Long Beach where they could make connections to the Blue Line, Greyhound, and other means of transportation. It does no more.
Where do we go from here? What do we lose next?
Ella E. Jensen
Seal Beach Leisure World
Sunset Beach annexation is not a done deal
After reading last week's opinion piece by Mike Van Voorhis, I felt compelled to correct his erroneous statements.
The issue of annexation is not behind us but still very much on the table.
Even the OC Superior Court Judge Horn felt the issue of taxation without a vote needed to be heard by a higher court.
The Appellate Court will clarify the laws and make a ruling in the next year to year and a half.
If the Citizen's Association of Sunset Beach and the Howard Jarvis Tax Payer Association prevail, then the registered voters of Sunset Beach will have a vote on the issue of taxation.
If the taxation is voted down, then Huntington Beach will be left with a big legal problem.
The Huntington Beach City Council would be going against their own city charter by not taxing us, but still taxing their residents.
Maybe Mike Van Voorhis has forgotten the circumstances of how Huntington Beach annexed Sunset Beach—against its will. I am sure the majority of Sunset Beach hasn't forgotten the facts of that already.
Until the SBCA does another mailed survey of Sunset Beach, Mike Van Voorhis is irresponsible in his statement, "The majority of Sunset Beach residents have accepted the annexation."
The last survey done had results showing 86 percent did not want to be a part of Huntington Beach.
There have been multiple requests and opportunities through SBCA community mailers to do an updated survey of the community regarding the will of Sunset Beach, which Mike Van Voorhis has apparently repeatedly chosen to ignore.
We were told that there would not be any changes to Sunset Beach after the annexation.
As we all know that was a false promise, because there has been nighttime surveillance by helicopter instead of preventative policing on the beach.
Residents and visitors have been targeted by the Huntington Beach Police Department and told "their kind isn't welcome here." This heavy handed approach has sadly replaced the preventative policing and tolerances of our unique community by the OC Sheriff's Department.
Our local businesses have been subject to a barrage of new taxes, fees and permit costs.
Even the residents received a notice to pay an annual fee for possible paramedic needs in the coming year or risk a higher rate.
Is this an additional tax, or payola for protection?
Huntington Beach CC is once again looking at the almighty dollar when it comes to legal fireworks being allowed in the residential areas of Huntington Beach and Sunset Beach.
Sadly last May, three homes were lost to fire here in Sunset Beach. Much of the critical time was spent by Huntington Beach Fire Department arguing over who was getting pay credit for the fire and ejecting neighbors from taking hoses and putting out the fire of the first home.
The initial home fell to the ground before any hose was brought to the beach side of the fire.
With the wind blowing from the shore any water sprayed from the street was like spitting in the wind.
Any child with a hose knows pointing the water against the wind doesn't work.
As a longtime resident of Sunset Beach, I have become distressed by the actions in recent years by Orange County Supervisor John Moorlach, most of the Huntington Beach City Council, Mike Van Voorhis and "the half dozen" other Sunset Beach people that sabotaged the will of the Sunset Beach community.
Diana Dodson
30 year resident of Surfside and Sunset Beach
Sincerity of grocery help questioned
Mary Milhone and Ella Walton have recently announced their intention to provide delivery of  groceries ordered for their Leisure World neighbors.
Milhone and Walton, who happen to be up for re-election as representatives for Mutual Two on the Golden Rain Foundation board of directors, were given front-page coverage in the "Partyline" feature of Leisure World News on Jan. 12.
We hill folks from West Virginia have a saying:  "Be there for your neighbor when they really need ya!"
Mary and Ella, where were you a number of years back when the Seal Beach Market grocery store closed?
Many Leisure World residents relied upon that market for their groceries due to its location just outside the Saint Andrews gate.
As soon as it was announced that the market was to be closed, George Early, Marge Richter, Shirley Rinaldi, and others immediately stepped up to the plate to try and help.  Mary and Ella did nothing.
The old nearby market was closed over three years ago.
By now the majority of Leisure World residents have adjusted to finding other means for obtaining their groceries.
For these two GRF Representatives to make an offer to provide "grocery help" limited to orders from Von's, which already makes deliveries to Leisure World, in the few months before their election "just don't seem right."
As we hillbillies say, "A skunk don't smell of perfume when he wants attention."
The help of Milhone and Walton is offered way too late.  The barn done burned down, the well is dry and you ain't gonna get my vote.
Betty Keatley
Seal Beach Leisure World