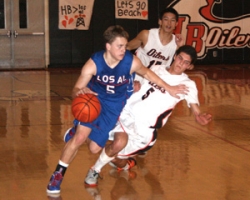 A first quarter surge proved to be the difference for the Los Alamitos High boys basketball team as they defeated Huntington Beach High, 68-61, on Jan. 11 at Huntington Beach.
The Griffins jumped out to an 11-3 lead early and a 20-13 lead after the first quarter. But more than two points did not separate the two teams in any given quarter after that. The Oilers made several pushes to close the gap, but each time the Griffins found a way to answer.
The final push came midway through the fourth quarter when the Griffins pushed their lead to 59-43 after a baseline three-pointer by Chris Kapano. But the Oilers came back with a 10-0 run to cut the lead 59-53, after Blake Skorich hit back-to-back three pointers with 2:22 left.
But the Griffins answered. Patrick Scully had all nine of his points in the fourth quarter, including a driving layup that stopped the Oilers' 10-0 run.
Kapano had 12 of his team-high 18 points in the fourth quarter and Michael Mason added a key offensive rebound and put-back that pushed the lead back to 63-55, with 1:00 left.
"I though it was a great team effort, I think everybody contributed the way they were supposed to, they executed the game plan, both defensively and offensively," coach Eddie Courtemarche said.
Wes Mitter had 12 points, while Jack Emmons and Ryan Hurst each added six. Eleven different players scored for the Griffins, who improved to 2-0 in Sunset League play with the victory. Courtemarche said the teams' defensive effort and execution was key in holding off the Oilers. Kapano added that their ball control was improved.
"Our previous game we were turning the ball over way too much, so this game we kept it down," Kapano said.
After the Oilers opened with a 3-0 lead, the Griffins went on an 11-0 run to take control of the first quarter.
Emmons and Mitter hit three pointers to give the Griffins a 6-3 lead. Later, Hurst found a lane down the key to take a pass and get an uncontested lay-up.
Hurst followed with a jump shot in the key that pushed the lead to 11-3.
The Oilers battled back and cut the lead to a little as three on several occasions, but never caught the Griffins. On Friday, the Griffins improved their league record to 2-0 as they defeated Newport Harbor, 65-47, at Newport Harbor. On Saturday, the Griffins dropped a non-league game to Villa Park, 62-52, at the Coaches versus Cancer Showcase Tournament.