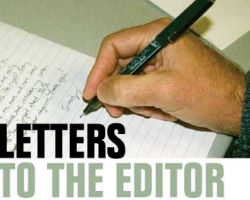 Blinded by science
While Seal Beach is cheering over capture of a darling of Wall Street – a biotech company, did anyone notice two significant points?
1) "treatment adds three or four months to . . . lifespan"  Three or four months is the blink of an eye for prostrate patients, who are in their 50s and 60s looking for years more of active life.
2) "treatment that 'teaches' the patient's immune system to fight cancer"  Over and over it has been shown that the patient's immune system knows how to fight cancer and needs only to be revived with proper nutrients and rest.
See DVDs and books from www.gerson.org, DVD "Food Matters" www.foodmatters.tv; DVD "Preventing and Reversing Cancer Naturally www.gnhealthyliving.com, and DVD "Healing Cancer from Inside Out" wwwravediet.com.
Which is more important—Wall Street or how you and I feel every day? Where is our collective brain?
Mary Papavasiliou
Long Beach
Summer not Michelle
I just wanted to tell you that there was a mistake on one part of the article/photo of the winner of the logo contest for the Fun Run.  The photo caption identifies the winners as Liberty Osti, Margaret Wickwire, and Michelle Welsh.  The last one is correctly identified as Summer Welsh in the article itself.
Since that just happens to be our pride-and-joy granddaughter, I just thought I'd tell you that her name is Summer Welsh.  What kind of a grandmother would I be if I didn't let you know?
We always read your newspaper and enjoy it immensely.
Marianne Welsh
Seal Beach