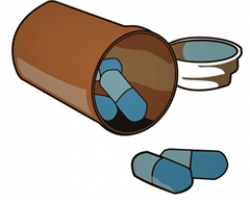 The Los Alamitos Unified School District is continuing its efforts in substance abuse prevention and recently announced two upcoming events that district officials hope the public will find valuable.
On Tuesday, April 10, from 7 to 8:30 p.m. in Room 153/154 on the campus of Los Alamitos High School, the District will be hosting a Parent Education Night on "Current Drug Trends." School Resource Officer Kim will be covering local and national trends as they pertain to substance abuse, how a parent can take an active role in protecting their child, and how electronic devices/social media are used in substance abuse activity.
In addition, the District is partnering with the Drug Enforcement Agency and the Los Alamitos Police Department to host its third Prescription Drug Take-Back event on Saturday, April 28, from 10 a.m. to 2 p.m. in the Cerritos parking lot of McAuliffe Middle School. Past events have yielded over 200 pounds of unused, unwanted, or expired prescription medications, liquid medications, vitamin supplements, and other over-the-counter medications.
There is a "no questions asked" policy if you decide to participate, and all materials are collected and properly destroyed by the DEA.
The District would like to thank LAEF and PTSA for their continued partnership in supporting these community-based events.