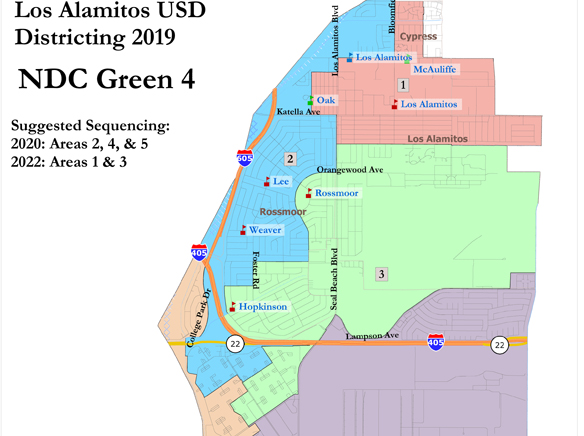 After months of discussion, two dozen community meetings and 11 draft maps, The Los Alamitos Unified School District Board of Education will decide between two maps when it adopts a final map of new trustee voting areas at its next meeting on Jan. 21.
The vote will be the final step for Board of Education members as the district changes how Board members are elected. LAUSD is going from an at-large voting system to one with five trustee voting areas. Starting with the November 2020 election, voters will no longer select candidates for all five seats on the Board but instead will vote for one candidate from their area to represent them.
"The Board is moving to a trustee-area voting system because the California Voting Rights Act strongly discourages the current at-large system," LAUSD Superintendent Andrew Pulver wrote in a message to community members on Jan. 9. "Dividing the school district into trustee areas helps ensure that minority group voting rights in the community are protected and not abridged or diluted."
The district encompasses all of Seal Beach, Los Alamitos, Rossmoor along with small parts of Cypress and Long Beach. Each trustee voting area must have an equal population of around 9,600 people. Since August, LAUSD has been working with a professional demographer to draw the boundaries of the trustee areas. The first five draft maps were released in October and meant to show a variety of options. Revised maps came out in November and more last month. Each round of revisions was informed by community input gathered at a series of public meetings and hearings.
At the Jan. 7 LAUSD Board of Education meeting, trustees narrowed down their choices to two maps: Yellow 3 and Green 4.
"Together as a community we have all worked really hard to figure out what works and what doesn't," Board Vice President Marlys Davidson said at the meeting.
Final Two Maps Split up Leisure World
What didn't work was keeping the Seal Beach retirement community of Leisure World in one trustee area, a move that would have basically guaranteed the neighborhood a seat on the board. The Orange 2 map, which would have done exactly that, was eliminated in a unanimous vote by Board members at the Jan. 7 meeting.
All four of the people who spoke during public comment that evening opposed the Orange 2 map. "I urge you strongly not to adopt the Orange map," resident Jody Roubanis told Board members before the vote. Another woman said it would be "ill-advised" to give Leisure World its own seat on the Board. "I also do not like the Orange map," Seal Beach Mayor Schelly Sustarsic told Board members.
After calling for the Orange 2 map to be eliminated, Board member Karen Russell explained she was concerned with how the map put all of Leisure World in one trustee area with the Seal Beach neighborhood of College Park West. Leisure World would make up 84% of voters in the trustee area which Russell characterized as unfair. "[College Park West residents] do have kids in the school district," Russell explained and added that they also pay for LAUSD bond measures. "That was my big bugaboo," she said. Leisure World bars anyone younger than 55 from living there and does not vote on or pay for bond measures.
Board member Diana Hill noted how no one from Leisure World had ever run for a Board seat and discussed the "very difficult position" the district would be in if no candidate from the majority-Leisure World trustee area emerged.
Davidson said the Board and district had tried to connect with Leisure World with little success. "We can't give a seat to an area that doesn't deeply engage in the education of our children," Davidson said.
Board members ultimately picked two final maps that split up Leisure World. The Yellow 3 map divides up the retirement community into three trustee areas with Leisure World representing between 27% to 34% of the voters in those areas. In the Green 4 map, Leisure World is part of four trustee areas and accounts for 16% to 27% of the voters in them.
Seal Beach City Councilwoman Sandra Massa-Lavitt lives in Leisure World. When asked about the final two maps on Monday night she said she hadn't heard anything from constituents. "My concern really was bond measure vote outcomes," she said and added that taxes are a big issue for Leisure World residents. "While I wanted [the maps] to be fair for everyone, I thought it would be best if the nonvoters on bond measures were all together."
In addition to splitting up Leisure World, both maps also distribute the district's nine schools across four of the five trustee areas. The Green 3 map was also eliminated at the Jan. 7 Board meeting. It was almost identical to the Green 4 map except for it had Rossmoor Elementary in a trustee area with Weaver and Lee Elementary schools.
In both maps, the most ethnically diverse part of the district covering part of Cypress and Old Town Los Alamitos is kept together in one trustee area. Davidson lives in that trustee area and is up for reelection in 2022. Board members Hill and David Boyer are in the same trustee area in both final maps. Boyer is up for reelection this year and Hill must run again in 2022. Board President Megan Cutuli and Russell are also in the same trustee area in both maps, but Russell said she will not seek reelection. Cutuli will campaign this year. In both maps, two trustee areas are vacant meaning no incumbent lives there.
What's Next?
The final vote will happen on Jan. 21 during the Board's regularly scheduled meeting which begins at 6:30 p.m. in the District Office Board Room at 10293 Bloomfield Street in Los Alamitos. You can still submit feedback at the meeting or by emailing trusteeareaelection@losal.org. The final maps and more information can be found at losal.org/voting.
After the LAUSD Board of Education picks the map, it must be approved by the Orange County Committee on School District Organization. The committee will also hold a public hearing on the map.  If it's accepted, it will go to the State Board of Education for approval.