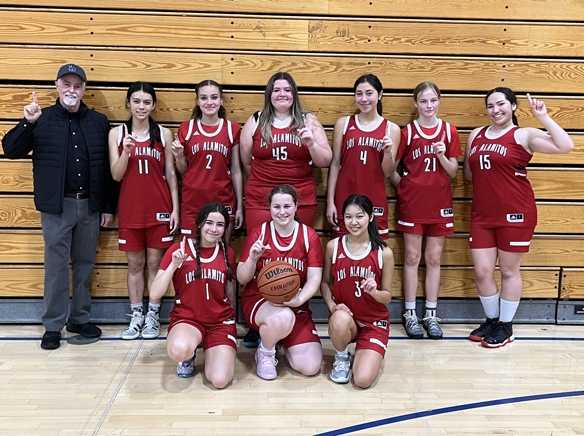 The Los Alamitos High School JV girls basketball team won its second consecutive Surf League Championship by overwhelming Fountain Valley High 45-22 to bring its league record to 5-0.
The Monday, Jan. 30, away game victory over the Barons puts the Griffins two games ahead of second place Corona del Mar, which has a league record of 3-2, with only one game left in the season.
In the title-clinching victory, sophomore point guard Katie Nakagawa scored 17 points, including nine points in the first quarter. She also grabbed five rebounds to go along with two assists and a steal.
Freshman Paige Davis chipped in eight points, followed by freshman Lexi Kryiakos with seven points and four assists, freshman Madison Norberg with six points, and sophomore Brooklyn Hernandez with five points.
Sophomore Mikayla Aguayo grabbed eight rebounds, followed by sophomore Sanorah Sandor with seven rebounds, and sophomore Katherine Contreras and junior Mari Nagata with five rebounds each. Contreras also blocked two shots.
Overall, the 2022-23 Griffins have a 20-4 record and are riding a nine-game winning streak with one game remaining against Corona del Mar. Before Surf League play began in January, Los Alamitos had also won two tournament championships this season: the 2022 El Toro Thanksgiving Classic, and the Millikan High School Junior Varsity Tournament.
Last season, the JV Griffins were co-champions of the Surf League with a 5-1 record and an overall record of 20-2.
Playing earlier on January 30, the Los Alamitos Frosh/Soph girls basketball team also won its version of the Surf league championship, finishing undefeated in league play by beating Fountain Valley High 29-22 to finish the season with a 4-0 league record.
Sophomore Karla Buenrostro scored seven points, followed by freshman Josie Brandman with five points. Sophomore Catherine Kolster and freshmen Morgan Oropeza and Chelsea Estrada each scored four points.