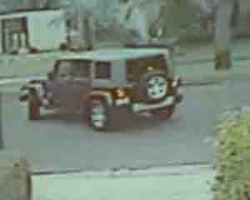 Orange County Sheriff's Detective David Purser on Wednesday, Sept. 14 discussed recent Rossmoor-area burglaries. The event was held at Good Shepherd Presbyterian Church in Los Alamitos.
According to Purser's presentation, crime in Rossmoor decreased 10 percent. However, there were six burglaries that month—four of them residential—and one robbery. In the robbery, at least one of the four suspects had a switchblade.
One suspect reportedly said: "Give me all you have."
Purser provided separate information on home burglaries and vehicle burglaries.  He said a number of automobile burglaries consist of stealing the third seat out of expensive Cadillac Escalades and GMC Yukons.  Purser said vehicle owners should park their cars in the garage, put an identifying mark on their third seats, lock the third seats down with cable and consider removing the seats from the cars when they are not in use.
Two cars were stolen in August. One was recovered.
Purser said residents should not confront crime suspects. Instead, they should be good witnesses. If they see a crime suspect leave the area in a car, they should try to get a license plate number. Purser said residents should try to give a description of a suspect and the suspect's direction of travel.
He said if a situation is suspicious, but not an emergency, the public should call (714) 647-7000.
The burglars in two Rossmoor burglaries are apparently driving expensive vehicles that would fit in with the neighborhood.
Rowena Drive residential burglary
Purser described a daylight burglary on Aug. 17 on Rowena Drive in which two suspects were inside a residence when the resident came home.
Apparently upon hearing the arrival of the resident, the two men jumped over a brick wall in front of the house and ran down the block to an awaiting get away car.
Fortunately, the resident had his surveillance camera running and captured images of the suspects and their get-away vehicle.
Purser described the first suspect as a black man, 6 feet 1 inch tall and weighing 210 pounds.
The second suspect was described as a black man, 5 feet 9 inches tall and weighing 175 pounds.
No description was provided for the get away driver.
Purser described the get-away vehicle as a 2009 or 2010 dark cherry red Jeep Unlimited Rubicon 4 door with a black hard top cover.
Yellowtail burglary
Both Purser and OCSD Lt. Bob Wren expressed concern about the Sept. 4 burglary on Yellowtail—a woman with her two children were inside the home at the time the burglary occurred.  The children were asleep in their bedrooms and their mother had just come out of the shower wrapped in a towel.
She immediately saw a man leaving her home through her front room window.
She described the suspect as a black man, 5 feet 6 inches, thin and approximately 20 years old.
Witnesses described his vehicle as a red or maroon, newer model four-door sedan, possibly a Chrysler Sebring.
Anyone with information about Rossmoor crime may call the OCSD non-emergency line at (714) 647-7000 or call Purser at (714) 677-7063.
The seminar will be rebroadcast on Los Alamitos Community Television, Channel 3, at 6 p.m. tonight, Thursday, Sept. 22.
David Lara is a member of the Rossmoor Predator Management Team. His wife Rebecca Lara helped organize the Tuesday, Sept. 13 crime awareness meeting described in this article. The surveillance photograph above was provided courtesy of David and Rebecca Lara.