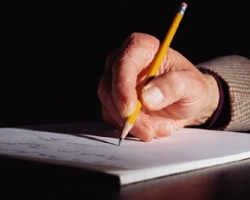 Ground Zero messages
After reading and listening to all of the statements and messages about 9/11 at Ground Zero, I finally learned about optimism in the September 2011 issue of AARP Bulletin.
To quote the article: "Looking for optimism?  Visit St. Paul's Chapel, the tiny 245-year-old stone chapel across the street from Ground Zero.
"Miraculously, as the twin towers collapsed, this tiny chapel survived and overnight became an oasis of hope and rest for thousands of rescue and recover workers.  After arranging the first supper of hot dogs on Sept. 12, the chapel coordinated an effort that grew day by day and organized, cooked and served up to 3,000 meals daily.  Eventually, the chapel, with an army of 14,000 volunteers, offered health care, rest and relief—even music.  It was a heroic effort.  The lessons learned are worth recalling as we seek to fulfill the promise of New York Fire Department's Ladder Company 20 and restore our foundation.
"People were able to give up their self-interest and do whatever it took to get the job done.
"Today, we have the challenge of restoring a foundation built on our shared history of inventiveness, freedom and sensitivity to others.  Just as the workers at St Paul's learned, it will take focus, planning flexibility and resilience.
"At 8:46 a.m. on Sept. 11, guests gathered outside of St. Paul's, look across the street at the World Trade Center construction site and strike a bell.  Just like Big Ben and the Liberty Bell before it, the St. Paul's 'Bell of Hope' was cast at London's Whitechapel foundry.  The ringing of the bell symbolizes the triumph of hope over tragedy."
Here in Seal Beach, we need to look to how we can keep our community solvent with optimism and remembering our very foundations.
Carol Franz
Seal Beach
Leisure World roof pitches
I have bits and pieces of unorganized information and evidence about roofs in Seal Beach Leisure World.
For examples, without limitation: Do all of our low-pitched roofs have the same pitch?
What is that pitch (or range of pitches?)
Can anything be done to change the pitch?  If so, at what cost?
What entity sets the standards for the pitch of shingled roofs?  (I know the difference between a standard of good quality and a building code.) What is the text of those standards?
What is the text of applicable building codes?
I have been told that a Golden Rain Foundation executive obtained a variance to shingle roofs with pitches less than those specified by applicable building codes.
Is this true?
If so, who authorized it?  I would like to see a copy of the application for such a variance.
What is the basis in fact for some insurers denying coverage for water damage due to leaking through low-pitched shingle roofs.  What evidence of facts and what standards do they identify and cite?
There is much more.
Undocumented accusations, conclusions, and vague claims will get us nowhere.  It is clear to me that there is a need for somebody with an orderly mind to marshal what we know and what we don't know into some one document we can all understand.
Willis A. (Bill) Frambach
Leisure World
Why is the administration in Leisure World failing?
What's wrong with the administrator in Leisure World? Lack of experience? Lack of education?
Apparently "yes" to all of these.
Some people believe that Mr. Dan Schaeffer was hired for the very inadequacies we have listed. He was young, inexperienced, lacking education in business administration, but because of these inadequacies, he could be molded and shaped to fit the will and vision of a few of the old guard Golden Rain Foundation members who wanted to maintain control.
They would educate him in the ways they deemed appropriate. For their trust in him, he would remain unswervingly loyal to them, thus insuring their power.
Notice, his application for employment and resume are no longer in his personnel file.
"It is NOT the custom to keep this personal information about an employee," we have been told.
Yet in the outside world, it is the law to keep all information about the employee in his folder. Some argue they didn't keep this information because they don't want us to know how inadequately prepared he is for this job.
They argue since he owes his job with lavish salary and benefits to this small, but powerful clique, he is not easily swayed by those outside the inner circle.
Neither is he worried about his critics because he knows this small clique which runs Leisure World will protect him. What this powerful clique wanted from him besides obedience was that he maintains the status quo. Don't change anything.
"We have done very well for the last 40 years in this iconic community," they bragged. "Don't listen to those dissidents. They're the crazies that come out of the woodwork and upset people and then disappear."
Two sentences in the Golden Rain News account of why the taxes were not paid on time demonstrate why this administration is failing.
And doing exactly as they were hired to do.
The News reports Monday night Assistant Controller Ann Pearson remembered the property tax checks.
"On Tuesday, April 12, at 8a.m., she informed her supervisor, Mr. (Rodel) Ual" that the checks had not been sent." What do these two sentences tell us?
Mr. Schaeffer and Mr. Ural moved into a system that was smoothly operating before they arrived.
They were hired to abide over this system.
They were to be simply observers.
Notice that Ann Pearson had to inform Mr. Ural that the taxes had not been paid.
If Mr. Ural had been functioning as a controller, he would have known they had not been paid if he had called her at 1 p.m. on Monday, the due date, and asked if the checks had been mailed.
But things are not done normally in Leisure World.
We have "stick" figures who do not lead because they were hired to abide.
When in doubt they call the people who hired them.  Or call a lawyer for advice. Schaeffer's attitude is don't act until told to.
Normally an administrator would come into a community like ours and evaluate the administrative structure and determine ways to consolidate jobs, seek greater efficiency, and save us money so we could pay his salary.
We would expect an administrator to have a vision, to bring in the latest innovations, imprint his mark on the system, but he has not done so because some believe he has been told not to.
And even if tomorrow morning Mr. Barrett walked into Schaeffer's office and said, "Let's see some innovation," he would not know what to do because he is educationally not equipped to know.
Mr. Schaeffer has a Bachelor of Arts in psychology.
He might be able to interpret our dreams, but he could not possible know the latest administrative innovations because he doesn't have that educational background.
Thus we have a non-leader leader, an abider who sits imprisoned in his office where the shades are never open, symbolically suggesting his isolation from Leisure World, colleting a salary greater than the chief justice of the United States Supreme Court.
Keith Fancher
Leisure World
Mutual 2
The Sun encourages submissions of Letters to the Editor. Letters should be no more than 300 words. Letters should be e-mailed and signed by the author and include the author's address and phone number (the latter two are for verification, not publication).
The Sun reserves the right to accept, edit, or reject letters for any reason.
Unless otherwise indicated, all letters sent to the Sun are understood to be intended for publication. E-mail letters to: dennis@sunnews.org. Mail letters to 216 Main St., Seal Beach, CA 90740.