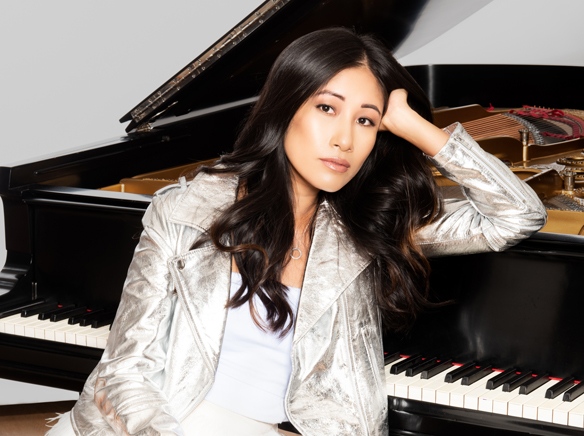 The Seal Beach Symphony is proud to welcome ARIA nominated concert pianist and Universal/Decca/Deutsche Gramophone recording artist Van-Anh Nguyen to the symphony's Mother's Day Spring Recital. Van-Anh is a worldwide sensation and in-demand artist. She has had several ARIA & iTunes chart toppers and became the first Australian-Vietnamese to ever in history enter the US iTunes Classical Charts.
Born to Vietnamese refugee musicians and having started piano studies at the tender age of 13 months old, Australian born concert pianist gave her Sydney Opera House debut at age 8. Van-Anh currently has 10 albums released on all major digital music outlets with her most recent release on Deutsche Gramophone. "She is cover girl beautiful, speaks with an Australian accent, and magic shoots out of her hands onto the keyboard" said Chad Berlinghieri, the Symphony's artistic director.
Her bubbly contagious personality and emotive playing has graced the stages as a soloist across Australia at venues including the Sydney Opera House, City Recital Hall, the Forbidden City Concert Hall (China), the Shanghai Oriental Arts Centre (China), Segerstrom Performing Arts Center (LA), Herbst Theater (SF). She regularly guests with the Ho Chi Minh City Symphony Orchestra (HCMC, Vietnam) and Vietnamese American Philharmonic Orchestra (California, USA). "We are very fortunate to have her make a stop for us here in Seal Beach," said Berlinghieri.
Her ability to perform classically as well as have the stage flair for creative classical crossover arranging and mash ups has allowed her to perform for such brands as Moet & Chandon, Tiffany & Co., Porsche, Barons de Rothschild, the Patron Secret Society, Fairfax & Roberts, Vicki Lee Gallery, Ferrari to name a few.
Nguyen will indeed thrill the Mother's Day audience with selections from such composers as Chopin & Debussy. "We are bringing in a 7-foot Steinway grand for her specifically and know she will make the most out of the world class instrument," said Berlinghieri.
"We are also very excited about the rest of the repetoir that the other artists are performing as well. This is going to be a very special afternoon." said Berlinghieri.
"I'm looking forward to this event, the last of our 2022-2023 season." said Berlinghieri.
"Next season, we'll kick off once more with Patriots in the Park, our outdoor Americana Spectacular! "
For more information about May 14, visit our website @ SealBeachSymphony.com or call (562) 509-8640.