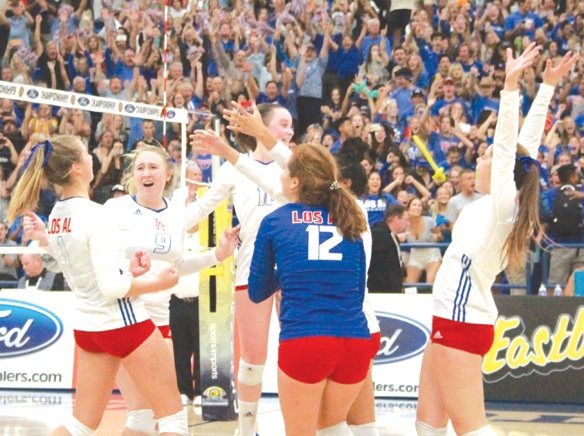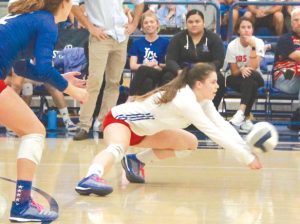 The Los Alamitos High girls volleyball team completed a remarkable run through the CIF-SS playoffs by defeating Trabuco Hills High, 25-19, 21-25, 25-15, 25-16, to capture the Division 2 Championship on Saturday at Cerritos College.
The Griffins were the second-place team out of the Surf League, but got hot in the playoffs. The Griffins finished the season as the No. 6 team in the CIF-SS division rankings. But they felt they could compete, Head Coach Dave Huber said.
"We talked all year, like, let's just get to playoffs and we're good enough to beat anyone," Huber said.
After dropping the second set, the Griffins were in control the rest of the way, jumping out to big leads in both the third and fourth sets. Los Al led 21-8 in the third set, before the Mustangs made a run. But the Mustangs could get within 10 points. Starr Williams closed out the set with a kill to give the Griffins a 2-1 lead in sets.
Likewise, in the third set, the Griffins jumped out to a lead of 7-0, 11-2 and 17-3 before the Mustangs were able to gain some momentum. Trabuco Hills was able to get within 21-12, but the Griffins pushed the lead to 23-12 with consecutive points by Abby Karich. Karich had a kill off a back-row defender and then tapped down an overpass for the points. A long serve put the Griffins at match point and two points later, Karich hammered another kill off a back-row defender to secure the title for the Griffins.
"For some reason we just looked, I don't know, sluggish in game two, we didn't have that same urgency when we got behind 8-3 in game one," Huber said.
Karich led the attack with 18 kills, including seven in the clinching set, and Williams had 14 for the Griffins. Kamryn Parsonage added eight kills and Gabriella Vermeulen chipped in four kills and had two solo blocks and five block assists.
Setter Alexandria Livingston had 36 assists and seven digs. Jacinda Ramirez had a team-high 12 digs and also led the Griffins with four service aces. Abby Blasi had 10 digs and Karich chipped in nine digs as well.