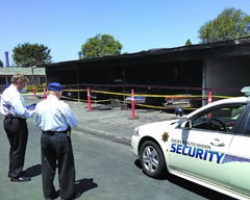 Fire raced through a carport in Leisure World Sunday night, July 2, destroying seven cars and a golf cart before being knocked down by firefighters.
According to Orange County Fire Authority Capt. Larry Kurtz, the blaze was reported shortly after 10 p.m., and was extinguished within 15 minutes. No one was injured.
Camille Thompson, president of the homeowners' association where the fire occurred, credited a paramedic crew on another call in the community with containing the blaze.
"There was a medical aid unit that happened to be 200 yards away when the fire was discovered. They rolled to the scene and used water from their truck on the blaze. Other trucks arrived a few minutes later and finished putting out the flames," she said.
All 24 spaces in the carport were damaged to some extent, about half by smoke. The heat was so intense that paint blistered on a carport about 30 feet away from the one that was consumed by the fire.