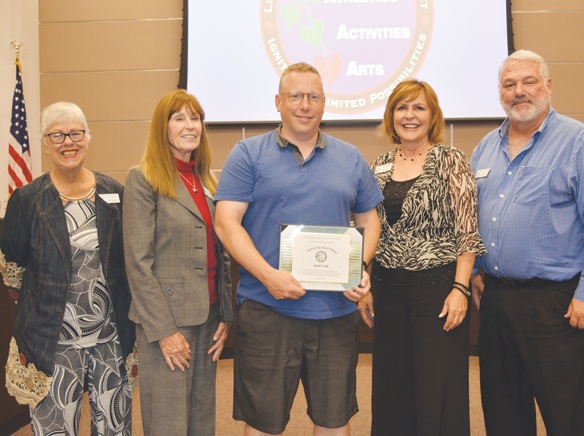 Dave Locke has been honored by the Los Alamitos Unified School District as a 2018 Hero of the Heart for his volunteer efforts on behalf of students and schools. He has spent hundreds of hours working to improve the lives of children and youth and to help make the District a wonderful experience for students and families.
Superintendent Dr. Sherry Kropp said the annual award recognizes those who "go above and beyond to give of their time, resources and talents to the benefit of all kids in addition to their own."
Last year Locke, who has two children in district schools, was honored by McAuliffe Middle School as its 2017 Hero of the Heart for his assistance with school activities, including dances, student socials, carnivals and back-to-school night events. Kropp said that Locke has since expanded his involvement to helping the district explore the feasibility of issuing a facilities improvement bond, serving on the district Operations Steering Committee, the PTA board, the high school Baseball Booster organization board and assisting the Los Alamitos Education Foundation in its efforts to support the schools.
"It doesn't matter who I talk to, everyone thinks the world of him and the work he does on behalf of our young people," Kropp said.
At a meeting of the school board, President Dr. Jeff Barke presented Locke with a certificate honoring his "extraordinary dedication and exceptional service to students."
"It's an honor for me to award him the Hero of the Heart," Barke said, "because he represents the greatness in our community and its incredible support for our district and the children of our district."
Locke thanked the board and praised "the wonderful teachers and administrators we have in this district. They make volunteering worthwhile."