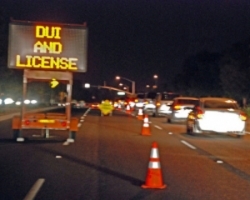 The Seal Beach Police Department canceled  a DUI/Drivers License checkpoint scheduled for Thursday night, July 29.
To make a comment on this story at the Sun Newspapers' Web site, go to Sunnews.org.
Crime Log Assembled by Charles M. Kelly
The crimes listed in the Sun Newspapers were reported to Seal Beach Police Department, Los Alamitos Police Department and Orange County Sheriff Department between July 12 and  July  24, 2010. Only street names are used; times given are reported times, not incident times. Crime Log entries are based on preliminary information. Space limitations make it impossible to publish every incident. Until proven guilty in a court of law, all suspects are considered innocent.
IN SEAL BEACH
Monday, July 12
Possible Fight Reported—2:33 a.m.—Main Street—The caller heard yelling and profanity. The caller apparently thought a fight was in progress.
Police unit 127 found some people playing soccer.
Grand Theft Report—12:12 p.m.—Driftwood Avenue—The caller reported a bike taken from an open garage. The stolen bike was a specialized bike for men valued at $2,500. The crime may have occurred the previous weekend.
Tuesday, July 13
Burglary Report—7:31 a.m.—15th Street—Loss: bike and cash. Point of entry: the burglar apparently removed the screen of the bedroom window. The crime apparently occurred between 3 p.m., Monday, July 12 and the time of the call to police.
Keep the Peace—3:12 p.m.—Seal Beach Boulevard—The caller said his wife bought a pair of earrings and had to return them to get them repaired.
When he came to pick up the earrings, he received a completely different pair. He requested the presence of police while he contacted the previous owner of the earrings. Assisted.
Wednesday, July 14
Suspicious People—1:41 a.m.—College Park Drive—The caller dialed 911 to report that an unspecified number of individuals were spraying a Toyota with a fire extinguisher and wrapping it in cellophane. Police unit 121 determined there was no damage to the vehicle. It was apparently a prank by friends of the vehicle's owner.
Traffic Hazard—9:11 a.m.—Lampson Avenue and Seal Beach Boulevard—A family of ducks was reported in the middle of the road, traveling southbound on Seal Beach Boulevard from Lampson. Several cars were backing up, causing a traffic hazard. The ducks were gone by the time police arrived.
Police Information—8:50 p.m.—1st Street—The caller found a stray dog and contacted Long Beach Animal Care Services However, she was told that animal control officers would not respond at that time of night.
She was advised to tie the dog to a tree and LB ACS would pick up the dog in the morning. She said she did as advised, but was extremely upset that the SBPD could not house the dog for the night. She was also upset that animal control would not come out. According to the entry for 9:53 p.m., the Long Beach Fire Department would contact LB Animal Care Services.
Later that night—10:02 p.m.—1st Street—There was still no response from Long Beach Animal Care Services. Police unit 123 picked up the dog. Assisted.
Friday, July 16
Bees—10:57 a.m.—5th Street—A large group of bees was reported swarming around the rear door of a residence. The caller said an elderly couple lived there. It was not known if the bee swarm was located on private or public property. Assisted.
Vehicle Burglary—3:03 p.m.—Pacific Coast Highway—The caller used a cell phone to report an apparent car burglary to 911. The crime had apparently occurred within 30 minutes of the call to police. Loss: a laptop and a bag containing miscellaneous items. Point of entry: a smashed window.
Possible Battery—8:38 p.m.—Welcome Lane—The caller said that a resident sprayed her with a water hose. Police counseled both parties.
Saturday, July 17
Patrol Check Requested—2:05 p.m.—12th Street—A woman phoned police to report that residents on the West side of 12th Street had placed lawn chairs in the street to save parking spots in front of their homes.
At 2:32 p.m., the woman phoned police again. She said the people who placed the lawn chairs told her that if she wanted to park where they set up the chairs, she would have to pay them $10.
Police unit 113 advised the people responsible for the lawn chairs that if they keep up their activity they will be contacted again and further action will be taken.
Possible Coyote Attack—2:52 p.m.—Marine Avenue—The caller's cat was possibly attacked by a coyote.
The information was given to Long Beach Animal Care Services.
IN LOS ALAMITOS
Monday, July 19
Counseling—9:10 a.m.—Snark Street—A friend of the caller's boyfriend had been calling and harassing her all morning. She was advised about obtaining a restraining order. Report taken.
Tuesday, July 20
Noises—2:58 a.m.—Green Avenue—The caller heard noises in the garage. The caller said it sounded like someone was trying to get in the door. Officers found nothing.
Wednesday, July 21
Disturbance Noise—6:53 a.m.—Farquhar Avenue and Maple Street—In the alley a man was loading items into his truck for work. He was being loud.
Thursday, July 22
Transient—8:31 a.m.—Katella Avenue—A woman was sleeping in the outside hallways at night. That morning she refused to leave. Officers got her to leave the area.
Friday, July 23
Burglary—8:47 a.m.—Myra Avenue—The caller said she left the house Thursday, July 22 and came home to find the home broken into. Loss: a TV set valued at $4,000.
Saturday, July 24
Vandalism—12:42 p.m.—Walnut Street—The caller woke up to find a burning box on his porch and the tires on his vehicle slashed.
IN ROSSMOOR
Tuesday, July 20
Vandalism Report—9:20 a.m.—Wembley Road.
Suspicious Person or Circumstances—10:45 a.m.—Hedwig Road and Pemberton Road.
Burglary in Progress—9:58 p.m.—Mainway Drive.
Wednesday, July 21
Stolen Vehicle—9:19 a.m.—Spur Lane.
Fraud Report—5 p.m.—Harrisburg Road.
Grand Theft Report—9:16 p.m.—Hedwig Road and Los Alamitos Boulevard.
Thursday, July 22
Suspicious Person in Vehicle—9:57 a.m.—Kensington Road.
Friday, July 23
Disturbance, Family Dispute—12:34 p.m.—Tigertail Drive.
Disturbance, Music or Party—11:54 p.m.—Montecito Road.
Vandalism in Progress—9:50 a.m.—Oak Knoll Drive.
Saturday, July 24
Suspicious Person or Circumstances—2:16 a.m.—Tucker Lane.
IN SUNSET BEACH
Thursday, July 22
Disturbance—9:49 p.m.—Pacific Coast Highway and 9th Street.
Friday, July 23
Found Child—2:34 p.m.—Pacific Avenue.
Disturbance, Music or Party—11:53 p.m.—25th Street.
Brian Smith of the News-Enterprise contributed to this article.