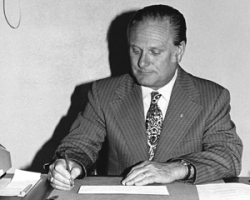 Teacher, principal and superintendent of the Seal Beach School District, Marx N. Dressler had a major impact on the young city of Seal Beach.
Under Dressler's hard work and leadership from 1946 to 1978, the tiny elementary through intermediate district thrived, consistently winning praise for its academic, performing arts and athletic programs.
Born in 1922, just outside the tiny community of Lebo, Kansas, Dressler spent the first five years of his life the son of a farmer.  Dressler's father decided in 1927 to follow an
early migration of farmers from the Midwest to California, where the family settled in Long Beach.
Dressler attended public schools through the Great Depression, where he excelled in academics and sports. He served as Excelsior High School's student body president and captain of the varsity baseball team.
Locally he was famous for his defensive quickness and scrappy hitting ability. Dressler won a full baseball scholarship to Whittier College, where he earned his degree and teacher's certificate just after the commencement of World War II.  As a college graduate, Dressler qualified to attend Midshipmen's School and became one of the youngest officers in the U.S. Navy at age 22. Before shipping off to Europe, Dressler married his high school sweetheart, Betty Jean Chapman. Dressler continued serving his country through the end of the war on a patrol ship in the English Channel, having reached the rank of full lieutenant.
Soon after Dressler's return, he landed a teaching and coaching position at Mary E. Zoeter School in Seal Beach.