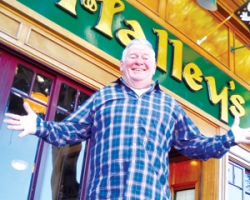 "Yes, I like Pina Coladas, and getting caught in the rain. I'm not much into health food, I am into champagne.
I've got to meet you by tomorrow noon, and cut through all this red tape. At a bar called O'Malley's, where we'll plan our escape." – Jimmy Buffett
Well-traveled people who have visited the "Emerald Isle" often agree that the Irish are the most hospitable in the world.
It makes sense then that one of the most popular and successful restaurants on Seal Beach's Main Street is an Irish pub named O'Malley's.
Brian Kyle, who grew up in Seal Beach, founded the pub in 1998 with his late partner and best friend Tom Atkinson. Throughout his local businesses career, Kyle has gained a reputation for giving back to the community.
Whether it's sponsoring local events or raising money for research on brain cancer (which claimed his partner's life) Kyle has put his money where his heart is  in Seal Beach.
I was born and raised here," he said. "This is my hometown."
The Seal Beach Chamber of Commerce has recognized Kyle's commitment to community support and service by naming him the Grand Marshal of its 30th annual Christmas/Holiday Parade that will be held at 7 p.m. Friday, Dec. 3 on Main Street.
Kyle's parents, the late Jerry Kyle and his wife Celine came from Ireland and eventually settled in Seal Beach for better opportunities and to raise their four children, Brian his brother Terry and their two sisters Kathleen and Geraldine.
Brian was the Kyle's the third child and by his admission probably the most prone to youthful mischief.
He has told a story of how as a boy he hopped the red car train in Seal Beach and then panicked by the time the train pulled into Huntington Beach.
Scared and confused the Huntington Beach police let him make a phone call.
He contacted Police officer Benny Garza, a local legend known for keeping a special eye out for the youth of Seal Beach. Garza brought him back to town and let him off with a stiff warning not to stray out of Seal Beach again.
It was one of those moments that helped crystallize Seal Beach's reputation as "Mayberry by the Sea."
Since then Kyle has not strayed except for his extensive recreational travel history. The family also lived in Ireland for about a year when Brian Kyle was about 6 years old.
For the most part, he has stayed around town to nurture his business and participate in the Seal Beach lifestyle. Many people say you have not visited Main Street Seal Beach unless you've been to O'Malley's.
Kyle recalled how as a boy he and other kids would find odd jobs on Main Street whether it was window washing or other activities. Kids back then had to work for their pocket money.
"I used to deliver the newspaper. It was called the Marina News," he said. "I had to go around and collect the money for it. I've worked all my life."
Kyle has many memories of Seal Beach in the 1950s, slightly before it was tamed, and living down its reputation as a "sin city." For a while, he said, it seemed that "anything goes" might have been the town's motto.
He remembers how the circus would come to town and park their gear where the Pavilions shopping center now stands. His sister Geraldine used to have a drive through dairy on Main Street during the 1960s and how the building that became O'Malley's was one of his favorite places on Main Street when he was a boy.
"It was a candy shop," he said.
Kyle attended St. Anthony High School in Long Beach.
Christmas was always a special time for the Kyle family.
Many people in a little farming town in Mexico where the Kyle family vacationed knew Jerry Kyle as Santa Claus
He would bring his van filled with donated Christmas presents for the underprivileged children of the town.
Jerry Kyle always said he was amazed at the generosity of the poor people in the village and how they would share everything they had no matter how little it might have been. He said he always felt he got more by giving away the presents than just about any other activity.
That same giving spirit, friends will say, remains alive in Brian Kyle and that is why they think it is well and fitting that he will serve as the parade grand marshal.
Kyle said there is another reason, full of serendipity for why he said he is excited and grateful for being honored.
"My dad was the Christmas Parade grand marshal 25 years ago," Kyle said. "He fought tooth and nail against it at first but then they convinced him by saying it would be a good thing to do for his family."
Kyle said he feels the same way.
The 30th annual Seal Beach Christmas/Holiday Parade will bring city officials, marching bands, organizations and businesses to the Old Town area for a community gathering that draws thousands of spectators each year.
The procession will take entrants in cars, on floats and by foot three blocks down Main Street, from the Seal Beach Pier to Pacific Coast Highway. Up to 15,000 people are expected to watch the parade from the sidelines on a yearly basis.
The parade promotes Seal Beach and local merchants. Nearly 100 groups from in and around Seal Beach will have signed up to march in the event, totaling about 2,500 participants.
Sponsors for the annual parade include the city, the Seal Beach Chamber of Commerce, the Seal Beach Lions Club and a number of area businesses.
The parade takes place from 7 p.m. to 9 p.m. on Friday, Dec. 3. Street closures will take place from 5 p.m. to about 10 p.m. along Main Street and Ocean, from Eighth to 10th streets.
For details, visit www.sealbeachchamber.org