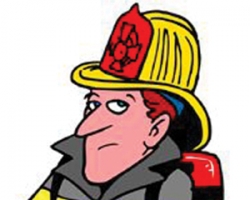 The 62nd Sunset Beach Fireman's Ball and Casino Night on Friday is promised to be one of the most fun in the event's six decades.
It will probably be the last.
The Orange County Fire Authority recently closed down the Sunset Beach Volunteer Fire Department and the local fire station appears to be on the auction block.
The Fireman's Ball always raised money for the volunteer firefighters equipment and other expenses. Without the firefighters, the ball's organizers, the Las Damas womens service organization, is looking for another charity to base the event upon.
Few of the club's members are still left from the first fireman's ball, but those who remain have continued the tradition of a great party, Sunset Beach style.
Meanwhile, Sunset Beach appears slated for annexation by Huntington Beach. The fireman's Ball organizers say they want to keep the event going for the fun it brings and also to help Sunset Beach maintain its separate identity from the mega city of Huntington Beach.
To that end, the Robby Armstrong Band is returning this year to provide the musical entertainment. Armstrong is one of the most popular, diverse and polished musicians in the West Orange County area. The band plays everything from classic rock to blues and country … albeit more in the genre of the Rolling Stones than say Conrad Twitty. The band's fans say it's is music the best in the area for rock-'n-roll dancing.
Tickets can be purchased at Salt Water Licks, 16543 22nd Street in Sunset Beach (On the Corner of PCH & 22nd Street).  The price is $20 and they can be purchased for the same price at the door the night of the event.
The price includes $100 in script gambling chips and a chance to win various prizes donated by area merchants.
There will also be The Big Red Bus to shuttle people from Sunset Beach and Seal Beach to the event so that safe driving is not an issue for patrons. The fee is $10 and includes beer and wine.
For more information, call (562) 852-9888.