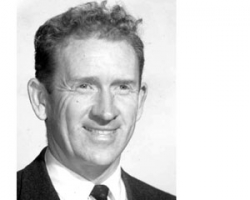 Many Seal Beachers knew Robert "Bob" Weaver and I do not need to say more.
However, many do not and I wanted to share some short insights about "Mr. Weaver."
He was my principal when I attended McGaugh Elementary School.
As the school's principal he was at all the events associated with the school and the community: McGaugh orchestra, jazz band and marching band performances; the football, baseball, basketball, gymnastics, track meets/games; the drama performances, awards ceremonies—he seemed to be everywhere
The PTA was a very important function of school and community, in which 100 percent of teachers and most parents would attended these meetings.
Mr. Weaver appeared to know everyone!
I mean it, he knew my brother, my parents and would ask me about swim meets that I swam in. He seemed genuinely interested in each person and had an uncanny ability to remember small details on each person. I still describe him in one word—Wow!
Let me step back:
McGaugh School had just been built and named after the Seal Beach School District Superintendant at the time, J.H. McGaugh.
In 1961, Mr. McGaugh retired and Assistant Superintendant Marx Dressler, became superintendant.
McGaugh School was to accommodate 4th- to 8th-grades. They needed a principal and asked Zoeter School Principal, Mr. Weaver to come over to McGaugh, which he did.
Incidentally, Mr. Don Moffitt took over as Zoeter's (K-3rd grade) principal.
Mr. Weaver and other staff members graded and planted the athletic fields the summer before (no sod in those days). Mr. Weaver was involved hiring the first teachers and very influential in determining the McGaugh scholastic, artistic and athletic missions. He was the McGaugh principal for nearly 30 years.
Mr. Weaver had a special talent for relating to people … especially young people. Colleagues and former students will no doubt remember the quiet, calm, friendly way he spoke and how patiently and attentively he listened when spoken to. As Principal he was able to challenge students…and teachers…to higher achievements…without rancor or threats, but through example and strength of character. Mr. Weaver never gave up on a kid…He loved his students and they loved him.
Mr. Weaver wanted to open up the gymnasium for pick-up basketball after school and give the students a way to learn basketball and all the teamwork, physical fitness and other lessons learned through it.
In his discussions with Marx Dressler, they had no extra money for this, but said he could supervise for free and do it. That led to the gym being opened by Mr. Weaver seven days a week. And that is how it was, every day for more than 25 years … and all free of charge. Randy Weaver shared that his Dad really enjoyed running up and down the court playing basketball with the local youngsters.
Many of his "gym rats" would return for decades after leaving McGaugh to play "round ball" with Mr. Weaver. It is one of the things that made growing up in Seal Bech such a wonderful thing.
Now I need a favor. I am one of those "gym rats" that grew up with Mr. Weaver. We would like to have a plaque put up in the McGaugh Gym in recognition of this wonderful educator and so much more.
The cost of the bronze plaque is about $1,200 dollars.
If anyone is interested in donating to a fund for the plaque, please send a check to: J.H. McGaugh Reunion (Weaver Plaque), PO Box 171, Seal Beach, CA 90740.
Tim Young has organized a large McGaugh Elementary School weekend reunion.
On the last day, Sunday, Aug. 8, at about noon, we plan on having a recognition ceremony unveiling the Mr. Weaver Plaque.
I hope you can join us.
If you have a comment or response to this story, write us at dennis@sunnews.org or go directly online to www.sunnews.org. Find the story and leave your comment there.