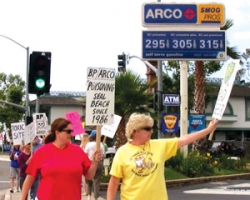 More than 30 people participated in a protest at the Seal Beach ARCO station on Pacific Coast Highway, Saturday, June 12, according to Bridgeport neighborhood resident Katherine Prescott.
This was the second Bridgeport protest against the gas station since Saturday, April 14.
Prescott said the purpose of this protest was to keep the residents' message in the public eye in anticipation of a planned July 3 demonstration.
Prescott said the July demonstration is intended to let ARCO/BP officials know there will be continued demonstrations until the sight is cleaned by excavation—also known as "digging and hauling"—of the contaminated soil at the site.
The PCH gas station has had at least two leaks from underground tanks since the 1980s.
Bridgeport residents have been concerned since the summer of 2009, when it became known that gas vapors had contaminated the soil and ground water in the area near the gas station.
Even homes outside the "study zone" of the contamination may have been impacted.
If residents of those homes want to sell, they are legally obligated to let prospective buyers know that their property is located near a toxic site.
For that reason, some Bridgeport residents are worried that their property values have decreased.
"It is a pity that the citizens of Seal Beach were not made aware decades earlier of the toxic contamination threatening the Old Town neighborhoods and real estate values before such extreme damage was caused," Prescott said.
It is not known what impact the Bridgeport contamination issue could have on property tax revenues for the city.
The ARCO station is affiliated with Atlantic Richfield Company, which belongs to BP America. That company, in turn, is part of BP Global, the company responsible for the Gulf of Mexico oil spill.
"If BP cannot even clean up a small corner gas station after 24 years, what hope is there for the people in the Gulf?" Prescott asked.
Saturday, June 19 is the official deadline for ARCO/BP to submit a revised corrective action plan for cleaning up the sight.
A Monday, April 19 letter from the Orange County Health Care Agency supported excavation, also known as "dig and haul," as the best method for cleaning up the toxic site.
The county agency called the draft corrective action plan "inadequate."