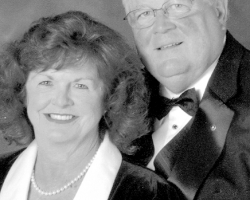 Tom Stretz took a long look through his office window one afternoon last week at the kids using the Los Alamitos Youth Center computer lab. Like any youth, they were busy with their own lives, not noticing the man that had been looking over them like a concerned parent.
He appeared deep in thought, perhaps thinking about his 14 years as executive director with the organization, which will come to an end with his retirement at the end of the month.
Stretz said it's been a wonderful stretch of his life, which he began preparing for three years ago.
"A good leader knows when it's time to stop," Stretz said. "I knew three years ago it was time because there were people behind me who needed the chance to take this to the next level."
Stretz said his retirement is a "time for celebration." Stretz came to the Youth Center from the Boys and Girls Club of Hollywood after spending a number of years in private industry.
All his years in those positions prepared him for taking on the Youth Center job.
Stretz had been told that Los Alamitos was a different place when he took the position … and he has found that to be true from both a positive and negative perspective.
"It's an atypical community for Southern California because it is so small town like and it values kids," Stretz said.
"You ask the community for help, monetary or otherwise and it answers wholeheartedly,"  Stretz said.
The Youth Center, which used to receive much of its funding from Bingo receipts, had never asked the community for financial support before 1997, Stretz said.
Stretz said in that first year of going to the community, it exceeded its fundraising goal by 50 percent.
The Youth Center is known for many kid-oriented events in the community, including its annual Christmas Tree Lot, which began in 1999.
Stretz said the supportive spirit came out in droves the first year.
"We had hoped to sell 700 trees the first year and we ended up doing 1,500 trees," Stretz said. "Now we sell over 2,500 trees a year."
Monies raised from those trees go to support not only the Youth Center programs but also benefit the schools.
Groups work the lot and earn money and $5 of each tree purchased can also go toward a local school if desired.
"I like to think we're in a better place both financially and program wise than when I took over 14 years ago," Stretz said. "Our board and staff really stepped up to the plate."
Participation in Youth Center programs have grown over the years. The music program has grown from 50 to 300 kids with summer day camp growing from 30 to 200 kids over the years.
Taking over for Stretz will be his long time office manager Lina Lehecka, who has been with the organization for five years and has been instrumental in much of the recent success, Stretz said.
Lehecka was in charge of the Every 15 Minutes program, which graphically teaches young people the dangers of drinking and driving.
"The future is bright for the Youth Center," Stretz said.
"Lina has learned well the last five years and will bring energy, creativity, strong values and a relationship to young people. This organization will thrive under her," Stretz said.
Stretz will still have his finger on the pulse of the Youth Center, planning on helping out with tutoring in the homework lab.
He said he owes a lot of his success to his wife Hattie, a big supporter of the organization.
"She's been by my side through all of it," Stretz said. "She's been my partner in both life and business. I wouldn't have been able to do any of this without her."
In his retirement, he still plans on getting up at 5:30 every morning. He will also be spending more hour
s working with the Cancer Support Foundation and with the Lestonnac Free Clinic.
"We need to give the clinic some legs," Stretz said.
"I want to help find it a more permanent location and help to get it some more funding."
Non-profit consulting work will also keep Stretz on his toes.
"I'm not the type to just sit around," Stretz said. "I'll be staying busy."