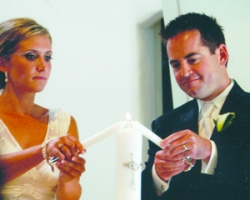 On Saturday, August 7th, Chris Weir and Annie MacDonald were married at St. Anne's Catholic Church in Seal Beach.
A reception followed at the Reef in Long Beach.  Chris grew up in Seal Beach where he attended Seal Beach Playgroup, St. Hedwig School and Servite High School.  He received his undergraduate degree and Master's Degree in Theology at Loyola Marymount University.  He is currently employed at Servite High School.  Annie MacDonald graduated from UCSB and is currently in her last year of law school at the University of Notre Dame.
Upon her graduation in May of next year, Chris and Annie will reside in Seal Beach.