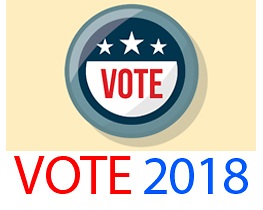 Billions of dollars in bonds, daylight saving time and rent control are among the issues voters will be looking at next week. On Election Day, it isn't just candidates you'll be picking. There are eleven Statewide Propositions on the Nov. 6 ballot, too. Here's a brief look at each one.
Proposition 1: Authorizes Bonds to Pay for Veterans and Affordable Housing Programs. (Put on ballot by Legislature)
If passed, Prop. 1 would authorize California to sell $4 billion in general obligation bonds to pay for affordable housing programs. Among other things, Prop. 1 bond funds would provide annual subsidies for up to 30,000 low-income households, would give down payment assistance to 15,000 homebuyers and provide home loans to 3,000 veterans. California's cost to repay the bonds plus interest would be about $170 million each year for the next 35 years.
Proponents say Prop. 1 would help families and veterans struggling with the state's high housing costs. Opponents say Prop. 1 would only provide housing for a small number of people and would lead to higher taxes for residents to pay off the bonds.
Proposition 2: Authorizes Bonds for Mental Health Housing Program (Put on ballot by Legislature)
In 2004, California voters approved Proposition 63 which raised income taxes for people earning more than $1 million to fund county-run mental health services. The tax generates $1.5 billion to $2.5 billion a year.
In 2016, the State Legislature created a program aimed at housing homeless people with mental health needs.
Voting in favor of Proposition 2 would allow the state to sell up to $2 billion in revenue bonds to help pay for the housing program and use up to $140 million a year from Prop. 63 funds to finance it.
Proponents say Prop. 2 will help tackle the problem of homelessness which can be complicated by mental illness. Opponents say counties already use Prop. 63 funds for housing and say Prop. 2 spends money on buildings instead of treatment.
Proposition 3: Bonds for Water Supply and Quality (Put on ballot by Petition Signatures)
Prop. 3 would authorize California to sell $8.877 billion in general obligation bonds for infrastructure projects related to the water supply. This includes watershed protection, drinking water, wildlife habitat improvements and dam and reservoir repairs. Most funding would be distributed as grants to local government agencies, nonprofits and private water companies with some requiring matching funds. It would cost the state about $430 million a year for 40 years to pay back the bonds plus interest. Local governments would save an average couple hundred million dollars annually for the next few decades.
Proponents say Prop. 3 will provide safe drinking water for millions of Californians.
Opponents say Prop 3. doesn't do enough to fix the state's water shortage and spends too much money on parks and wildlife.
Proposition 4: Children's Hospital Bonds (Put on ballot by Petition Signatures)
Proposition 4 would authorize California to sell $1.5 billion in general obligation bonds for capital improvement projects at certain hospitals that treat children. The state's eight private nonprofit Children's Hospitals, including Children's Hospital in Orange County and Miller Children's Hospital in Long Beach, would be eligible for 72% of the bond funds. The average repayment costs for the bonds total about $80 million annually over 35 years.
Proponents say Prop. 4 will help keep hospitals up to date. Opponents say instead of borrowing money the state should look at improving health care overall.
Proposition 5: Changes to Property Tax Transfer Requirements (Put on ballot by Petition Signatures)
Proposition 5 aims to expand special property tax transfer breaks for homeowners who are older than 55, severely disabled or own a contaminated or disaster-destroyed home. Right now, the rules allow this group of homeowners to transfer their property tax base when they buy a new residence of equal or lesser value, in a specific county and only once. Prop. 5 would let the eligible homeowners get a property tax transfer break on their new home purchase no matter the price, where they move in the state or how many times they move.
If passed, schools and local governments would each lose revenues worth $100 million each year at first and then up to $1 billion a year over time. Prop. 5 would also increase the number of home sales which boosts state income tax revenues by tens of millions of dollars a year. County tax assessors would have one-time costs in the tens of millions of dollars to adjust to the new process of calculating the taxable value of homes.
Proponents say Prop. 5 would protect older adults on fixed incomes and free up more houses for younger families. Opponents say Prop. 5 would lead to loss of revenue would mean less money for schools and public safety.
Proposition 6: Gas and Fuel Taxes and Transportation Fees (Put on the ballot by Petition Signatures)
In 2017, the California Legislature passed a bill (SB 1) to pay for road and highway repairs and transportation with an increase in taxes on gasoline and diesel fuel and through new transportation improvement fees paid when drivers register a vehicle. A yes vote on Proposition 6 would repeal the taxes and fees enacted by SB 1. Prop. 6 also requires voter approval before state lawmakers can raise, extend or impose taxes on gasoline or vehicle fees.
If passed, Prop. 6 would reduce SB 1 tax revenues for this fiscal year by $2.4 billion. Two years from now, the reduction would total $5.1 billion annually. The revenue loss would impact maintenance and repair of highways and roads, as well as transit programs.
In Seal Beach, the recent slurry and paving work on Ocean Avenue was funded by SB 1.
Proponents say Prop. 6 would immediately lower the price of gasoline. Opponents say California will be less safe without money to pay for bridge and road repairs.
Proposition 7: Daylight Saving Time (Put on ballot by Legislature)
A yes vote on Prop. 7 means, with a two-thirds vote, the California Legislature could create a year-round, permanent Daylight Saving time. That would mean no more "falling back" or "springing forward" for time changes. The change would have to be consistent with federal law to take effect.
Proponents support ending biannual time changes they say are hazardous to the health of Californians. Opponents say Daylight Saving time in the winter would mean an extra hour of darkness in the morning that will have a negative effect on schools, traffic and safety.
Proposition 8: Regulates Amount Outpatient Kidney Dialysis Clinics Charge for Treatment. (Put on ballot by Petition Signatures)
In California, licensed dialysis clinics treat patients with severe kidney disease. Most of the 588 clinics are owned by two for-profit companies, including one clinic in Los Alamitos. Dialysis is covered by Medicare, Medi-Cal and private insurance, but private insurance is typically charged more.
If passed, Proposition 8 would limit how much dialysis clinics can charge for treatment. Clinics would be allowed to only charge for "direct patient services care" and "health care quality improvement costs," plus 15 percent. The measure would also require clinics to pay rebates.
Supporters say Prop. 8 will stop the overcharging of patients and lower healthcare costs overall. Opponents say passage of Prop. 8 would force clinics to cut services and close.
Proposition 10: Local Government Rent Control (Put on ballot by Petition Signatures)
If passed, Prop. 10 would change state law to give local governments authority to enact rent control ordinances. Right now, California's Costa-Hawkins Rental Housing Act prevents rent control on single-family homes and any new housing built after Feb. 1, 1995.
It also forbids ordinances from dictating what landlords can charge when a new renter moves in. Prop. 10 requires that rent control laws allow landlords a fair rate of return.
The economic effects would come into play if cities and counties enacted rent control. Creating new rent control laws could mean increased administrative and regulatory costs.
Proponents say Prop. 10 would allow local communities to decide if they want rent control. Opponents say Prop. 10 will lead landlords to sell their property or stop renting driving up the cost of housing.
Proposition 11: Private-Sector Emergency Ambulance Employee Breaks (Put on ballot by Petition Signatures)
A yes vote on Proposition 11 would require private-sector ambulance employees to remain on-call during their entire shift. Employees would have to respond to emergency calls during meal and rest breaks. If a break is interrupted, employees must be given another break during the shift. Prop. 11 also requires employers to pay for additional training and mental health services for employees. Prop. 11 does not impact public ambulance employees.
Prop. 11 would result in lower costs for ambulance companies in the high tens of millions of dollars annually. That could also mean lower costs for local governments who use private ambulance companies.
Proponents say Prop. 11 protects public safety. No official argument against the measure was submitted. But the California Democratic Party has endorsed a "No" vote on Prop. 11.
Proposition 12: Farm Animal Cage and Space Requirements (Put on ballot by Petition Signatures)
A yes vote on Prop. 12 would create new space requirements for housing egg-laying hens, breeding pigs and calves raised for veal on farms. For example, egg-laying hens would have to be raised in a cage-free environment by Dec. 31, 2021. Prop. 12 also bans businesses from selling eggs or uncooked pork or veal that came from animals housed in a noncomplying manner. Regulations would start in 2020 and be enforced by the California Department of Food and Agriculture.
Consumer prices for eggs, pork and veal could rise if Prop. 12 passes. There are also increased costs to enforce the laws.
Proponents say increasing cage sizes will reduce the risks of food poisoning and farm pollution. Opponents say Prop. 12 would be met by legal challenges from other states over the ban on sales.
Proposition 9, a measure that would have split California into three states, was taken off the ballot due to a California Supreme Court ruling.
Information from: VotersEdge.org, California Legislative Analyst's Office, League of Women Voters and Ballotpedia