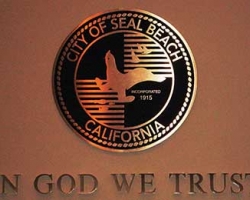 The Seal Beach City Council will meet in closed session at 6:30 p.m., Monday, Jan. 25 to evalluate a public employee. According to the agenda for the executive session, the employee will be City Manager David Carmany. The city manager was identified only by his title, but as there is only one city manager in Seal Beach the individual's identity is clear.
The agenda was posted outside Seal Beach City Hall on Thursday afternoon, Jan. 21.
Carmany was criticized by City Councilman Gary Miller at the last council meeting for hiring Carmany's high school friend to be the architect on the city's new fire station. In an interview, Carmany defended the decision to hire the architect by pointing out that he brought in the project ahead of schedule and under budget. The contact with the architect was a no-bid contract. Councilman Gordon Shanks told the Sun Newspapers that no-bid contracts for architectural services were perfectly normal. For details, see the story "A city's staff at odds" on this Web site or in the Thursday,  Jan. 21 issue of the Sun.
The general meeting of the council is scheduled to be held at 7:30 p.m., Monday, following the closed session.