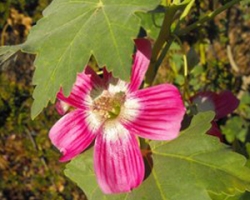 The quiet neighborhoods of Rossmoor scream quaintness.
The community is full of wispy tree-lined streets and yards filled with well-groomed bushes and flowers.
It is a real-life throwback to American daydreams of white-picket fences, tulips and clover and manicured lawns and the perfect spot for a garden tour.
The Rossmoor Woman's Club has been offering tours of the best of the neighborhood's gardens for the past seven years. The funds raised go toward local scholarships and other charity work.
While the club is well known for its holiday home tours, in which many thousands of dollars have been raised, its garden tour germinated last year to bring in about $7,000 in extra funds for the club's community causes.
The club is hoping to do even better this year and make the garden tour a signature event in the west Orange County area. This year the tour will be held on Sunday, May 15. Guests will get a peek behind the hedges, so to speak, into the backyard of some of the area's most attractive homes and gardens.
"What a wondrous way to spend the day," said club member Joan Klisanin Seligmann. "This  is becoming quite an event and it's all for a good cause."
Tickets to what is titled the Rossmoor Woman's Club's Outdoor Living & Garden Self-Guided Tour are $10 each.
Presale tickets are available at the following locations:
•  Designing Whims –  3788 Cerritos Ave. in Los Alamitos
•  Prep Kitchen Essentials in The Shops at Rossmoor
•  Elementals – 10621 Los Alamitos Blvd. in Los Alamitos
•  Standing Ovation  – 10582 Los Alamitos Blvd. in Los Alamitos
Tickets are also available the day of the tour all day at the Outdoor Boutique located at 11371 Drysdale Lane in Los Alamitos.
For more information, contact the club at (562) 810-7139, or visit the Web site at www.rossmoorwomansclub.org.