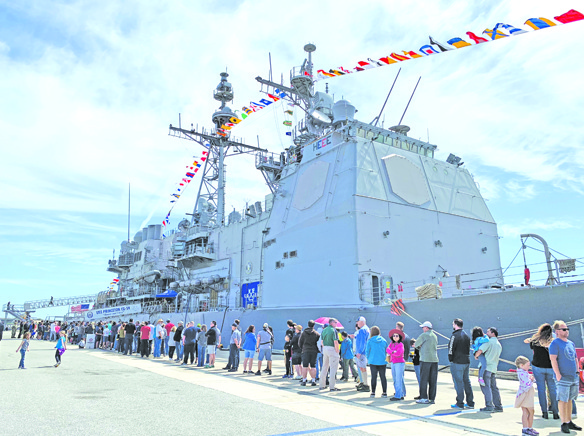 Public welcomed aboard USS Princeton for base's 75th Anniversary
What a birthday party!
To mark its 75th anniversary, Naval Weapons Station Seal Beach invited the public to come aboard a U.S. Navy warship last weekend and it drew big crowds.
Around 8,000 people visited the base for free guided tours of the USS Princeton over March 23-24, according to Public Affairs Officer Gregg T. Smith.
It was the first public ship tour at the base since 2012.
"Our Sailors, Marines and civilian staff were amazed and humbled by the great support the public has shown for the base, USS Princeton, and our Navy in general," Smith wrote in an email message to the Sun.
The USS Princeton is a guided missile cruiser and was commissioned in 1989, according to the U.S. Navy's website. The warship was named after the Battle of Princeton in the Revolutionary War and has served in support of the aircraft carrier USS Nimitz.
Crew members of the USS Princeton lead the tours which lasted about 45 minutes. Visitors were able to ask questions and learn detailed information about the ship's features including its firepower. One crewmember estimated the ship had 75 guns.
The tour went to multiple levels of the ship including into the bridge and even down into the Combat Information Center to see where threats are tracked. That was the only area where pictures were not allowed to be taken.
Founded in 1944, Naval Weapons Station Seal Beach "is the primary munitions installation for the Navy's Pacific Fleet." It stores Navy and Marine Corps munitions and provides Navy and Coast Guard ships with munitions.
Smith said the 75th anniversary was about more than just reflecting on the base's mission. "It is also a celebration of our 75-year partnership with the local community."
The base is currently preparing for major renovations to the area that services visiting ships in Anaheim Bay.
The plan includes a replacement ammunition pier that would be able to accommodate larger vessels and more traffic.