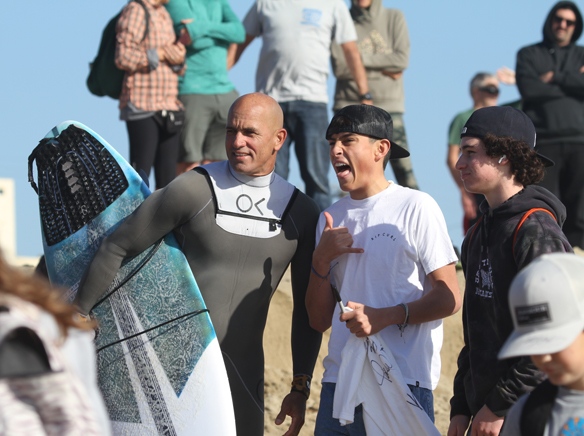 With local swells building due to recent storms, surfers have been taking advantage of the high surf. Over the weekend the GOAT, Kelly Slater made an appearance in Seal Beach. Of course, the man widely considered to be the greatest professional surfer of all time drew quite a crowd on the beach.
He reportedly hung around for about an hour, talking with local surfers and fans, taking pictures and signing autographs. Ed Smith of seatechphoto posted several pictures of Slater on his Instagram and reported in his post about the interactions of Slater and local people.
"The stoke from all the groms, young and old, was quite high today," Smith wrote.
Slater, who turns 51 on Feb. 11, is still competing on the World Surf League Tour and won his 56th career title in Feb. of 2022 with a win at the Pipe Masters on the North Shore of Oahu. The Florida native has won 11 World Championships and the Triple Crown of Surfing three times. He's won the U.S. Open of Surfing three times (1992, 1996 and 2011).