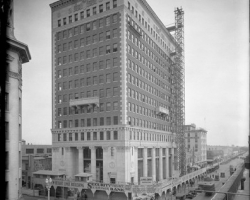 On New Year's Eve, The Federal Bar in Long Beach will continue the local tradition of bringing in the New Year with a party on Pine Avenue.
Downtown Long Beach was previously host to an outdoor street party, but the libations are now heading indoors for New Year's Eve 2017.
The Federal will offer three different experiences for guests including a three-course prix special New Year's Eve menu (featuring Pan Seared Pacific Sea Bass, Braised Short Rib Osso Buco, Herbed Goat Cheese Stuffed Breast of Chicken, and Warm Almost Flourless Chocolate Cake) for $65, a nightclub dance party with their regular DJ's from Sole Saturdays for $20, and then finally a VIP premium open bar package for $90 in their exclusive speakeasy, The Parlour.? Dinner will require reservations to be made at 562-435-2000, but admission for the others can be purchased online at their http://nh.thefederalbar.com.
About the Bar
The Federal Bar Long Beach is in the heart of downtown Long Beach at 102 Pine Ave.
The structure was built in 1924 by Curlett & Beelman, and was originally home to the Security Pacific National Bank. The high ceilings with intricate details are a perfect example of Pre-Depression Era luxury on the West Coast. The Federal took residence in 2013, and has been serving gastropub delights and an urban elegance to Downtown Long Beach since.
In addition to providing the best in mixology, music, and delicious food, the architecture of The Federal offers an opulent uniqueness to a New Year's Celebration in Long Beach that makes it the best place to be to say hello to a new year.
The Federal took over the Madison Steakhouse space downtown, transforming the former highbrow, high-ceilinged eatery by reclaiming the 1924 building's Gilded Era antique finishes from its days as a bank (a feature it shares with its North Hollywood namesake).
Designers Beth Holden of NEW THEME, who designed and built Bow and Truss, and Spacecraft, whose numerous credits range from LA's Kitchen 24 to Essex Public House, share design/build duties on the project, taking a more casual and contemporary riff on a classic pub setting which will include both the bar/restaurant and a performance space.
Back in 2011, the original Federal Bar set out to reclaim the much-evolved term, "gastropub," which originated in the UK and was first defined as a pub specializing in high-quality food.
Building on the success of its North Hollywood location, The Federal Bar will do in Long Beach exactly what a gastropub was meant to do – serve great beer, great food and diverse, always engaging entertainment, with a unique and inviting atmosphere—and also serve as an anchor and focal point for a vibrant neighborhood. Shad Davis leads The Federal Bar kitchen; his culinary credits include The Belmont, Toast and The Counter, as well as pioneering the menu at The Federal Bar.
Davis doles out everything from the Federal Dog, an all beef hot dog topped with shallot rings, pickled jalapenos and mustard, to IPA-braised short ribs served with melted leeks and hulk smash potatoes. Other favorites include a selection of seven cheeses and three flatbreads; curry cauliflower; a roasted beet salad with arugula, shaved fennel, feta, orange, sliced walnuts and white balsamic dressing; and the OMH! Burger with pepper jack, pickled jalapeno, avocado and cayenne crispy onions. New menu items debuting in Long Beach and North Hollywood include a red velvet chicken and waffles dish.