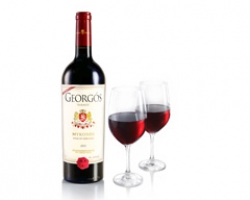 Georgós Wine is an emerging wine company that has blended American innovation and Greek tradition.
Georgós Wine is the brainchild of engineer-turned wine company founder Georgós Zanganas. The brand has just released their latest vintages of five wines.
Upon moving to San Francisco, the Athens native experienced a bit of flavor homesickness. While he could easily find other Greek products like yogurt, he could not find Greek wines at local retail stores or restaurants. A true problem-solving engineer, he decided to import the highest quality fruit from Greece and optimize them for the American palate: fruit forward, soft tannins, and clean tasting.
Zanganas uses sustainably grown grapes, none of them genetically modified, that are farmed by family growers. The grapes are then handpicked and triple hand-sorted. These Greek wines are blended, finished and bottled with reduced sulfites at Deerfield Ranch Winery in Kenwood, Sonoma Valley, under the direction of Zanganas and winemaker Robert Rex. For more information or to buy online, visit https://www.georgoswine.com.