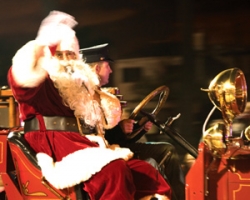 The following is the order in which entrants to the 2014 Seal Beach Christmas Parade will appear. The parade is being produced by the Seal Beach Lions Foundation and presented by Southland Credit Union.
Seal Beach Police Department Motor Escorts
U.S. Naval "Sea Cadets," Seal Beach Battalion
Parade presented by Southland Credit Union
Los Alamitos High School Marching Band
Orange County Fire Authority Station 44, Seal Beach
Southland Credit Union
Seal Beach Playgroup
Grand Marshal Steve Meier
Sun 'n Fun Creative Playgroup
"Classic," Daryl and Joe
Junior Grand Marshal, Jennifer Lang
Seal Beach Chamber of Commerce, President Vince Bodiford
Seal Beach Chamber, Small Business Persons of the Year, Tom Rowe and Liz Sontag
Seal Beach Chamber of Commerce Trolley
Philips Steel
Michael Brief's Almost Famous Seal Beach Kazoo Society Marching Band
Seal Beach City Council
U.S. Congressman Dana Rohrabacher
State Senator Janet Nguyen
California State Assemblyman Travis Allen
Robby Armstrong Band
Cypress College Citizen of the Year, Dee Carey
Seal Beach Animal Care Center
Bay Hardware
Girl Scouts of Seal Beach
Surf City Drifters
Lions Club International Director, Larry Dicus and Jane
Lions District 4L4 Governer, Gil Smith and Barbara
Seal Beach Lions Club, President Camille Romano
Seal Beach Lions Club, Lion of the Year Cathy Newton
Leo Clubs from Seal Beach, Braille Institute and Village Bible Academy
Baytown Realty
Red Mountain Marching Pride, Mesa, AZ
Seal Beach Police Foundation
Seal Beach Police Department
Seal Beach Marine Safety Department
VFW Post 4048, American Legion Post 857, Southeast County Young Marines
Military Vehicle of Orange County
Seal Beach Naval Weapons Station, Commander Erik Franzen
Lee Elementary School Recorder Band
Miss Seal Beach Pageants
First United Methodist Church of Seal Beach
Girl Scouts of Los Alamitos and Rossmoor
McGaugh School Kids with Principal Jerry Gargus
Woody's Diner
Woman's Club of Seal Beach
Seal Beach Sun
Broker Bill
Seal Beach Historical Society Man and Woman of the Year, Norm Dalbey and Sarah Ahmadinia
Ocean View High School, Seahawk Squadron
Cub Scout Pack 642, Lee Elementary School
Weaver Whales
Cub Scout Pack 611, Cypress
Job's Daughters, Bethel 161
Beach Fitness
Our Lady of Perpetual Help Drum Line
Clancy's Saloon, Seal Beach
Mini Madness Miniature Therapy Horses
Girl Scouts of Cypress
Fresh Cut Creative
Cub Scout Pack 658, Rossmoor
Los Alamitos Child Development Center
Fire Fightin' "12's"
Sound Waves Homeschool Marching Band
Anytime Fitness
Seal Beach Community Performing Arts Assn., "Amahl and the Night Visitors"
Friday Night Lights Cheerleading
AYSO Soccer 159, Safe, Fair, Fun Soccer
Cub Scout Pack 116, Seal Beach
Los Alamitos Pop Warner Football and Cheer
Callis Properties
Long Beach Crew
Huntington Beach High School Academy for the Performing Arts
Los Alamitos High School Dance Team
Mr. California and Miss Southern California Pageants
Fountain Valley Marching Band
Pedego Electric Bikes
Seal Beach Pony Baseball
Watersafe Swim School
Seal Beach Car Show
Radiant Church, Rock Around the Christmas Tree
Toyota Grand Prix of Long Beach
Warner Middle School "Wildcat" Band
Wellsprings and Integrated Wellness Centers
American Tiger Martial Arts and Fitness Demonstration Team
Bethany Christian Academy Girls Drill Team, Boys Crew and Puppet Team
Beach Area Recumbent Riders
Pavilions
United Water Polo Club
SeaBreeze Polynesian Entertainers, Holiday in Hawaii
LAUSD Transportation Department
Seacoast Grace Church
Impact Dance Center
HandR Block, Get Your Million Back
Long Beach Royal Syncopated Regiment
California Youth Spirit Corps
Friends of Seal Beach National Wildlife Refuge
Onstage Dance Center
Gold Wing Road Riders Association
St. Hedwig Celtic Spirit
Naples Salt Therapy
Bay Theater Foundation
YMCA, Adventure Guides Soaring Eagles
Oceanview Little League, California Little League Champions
Marini High School Viking Marching Band
Lions Parade Marshals and Special Guest, Jack Rogers
Long Beach Pediwagon
Youth Center of Los Alamitos, Christmas Tree of the Year
SANTA CLAUS!

Seth Eaker is vice-chairman of the Seal Beach Christmas Parade and owner of Black Marble Consulting, a boutique consulting firm.