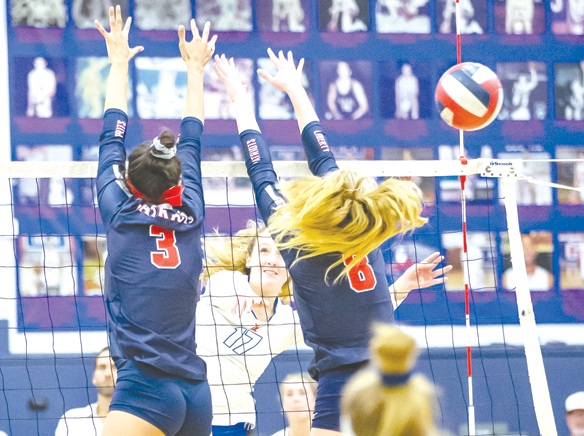 The Los Alamitos High girls volleyball team won the CIF-SS Division 2 championship, and advanced to the Regional Semifinals of the CIF State Championships before their season came to an end. It was a highly-successful postseason for a team that lost in the first round last year and was a second-place team out of the Surf League this year. Sometimes a team just gets hot at the right time.
What you may not know is that the Griffins may have become a team of destiny at the end of the season. The Griffins received a visit from volleyball legend, and Cal State Long Beach alum, Misty May Treanor. As a graduate of Long Beach State, I like to think her visit with the team inspired them to reach for the top. The Griffins tweeted out the above photo after their meeting with May Treanor. The Griffins were seemingly destined to take the title this year. They fell behind 0-2 in sets against Beckman and rallied back to win the final three. Rallies like that are rare, but teams that pull it off, can usually ride that momentum to big finishes. Kudos to the Griffins. Inspiration and effort can help overcome obstacles as much as talent.
Vote for taxes
While there are still ballots to be counted, Measure BB is sure to pass and Proposition 6 will fail. I wasn't sure about Measure BB, but I was certain that Proposition 6 would fail. When people have a chance to get rid of taxes it seems like an obvious choice. But the campaign against the measure pointed out the projects that could be lost if the measure passed. One of those listed was the street repairs here in Seal Beach.
While the measure failed statewide, by approximately 12 points, that was not the case in Orange County, where the votes to repeal outnumbered the no votes by about 12 points. Presumably that would be about the same percentage within the Sun region. Look on the bright side, Seal Beach got new streets out of the deal.
Ted Apodaca is the editor of the Sun News and Catalina Islander. He can be reached at editor@sunnews.org, or 562-317-1100.