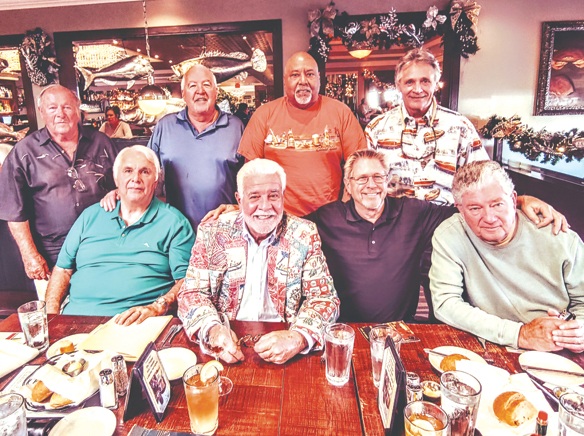 Seal Beach's Klisanin coached 9th graders to an 8-0 record in school's 2nd year
Though they've changed just a bit, several members of the 1964 Oak Junior High Baseball team held an impromptu reunion this past week, some 55 years after they won the Sunset League Championship.
Now, most of the former players are retired, though some are well into their second and third careers. Nevertheless, they invited their former coach, Jim Klisanin, to a 'lunch to remember' in a Los Alamitos restaurant last week to fondly recall their days in the dugouts of junior high school.
"It was a great group of guys," said Klisanin, now a real estate businessman living in Seal Beach, who was a coach and educator before starting his real estate business.
Klisanin said the Oak Junior High championship season came in the first year the team had its own field in 1964. He said Oak Junior High (which then included 9th grade and is now Oak Middle School), was built in 1963 and that the athletic facilities were not completed until 1964.
Until then, said Klisanin, "we had to walk to a field to practice. "I always wanted the guys to stay at practice longer, but most of them could only stay for an hour or so. That first year was tough."
Things changed in 1964, however, as the team now had their own field on which they could practice and play.
Back then, Klisanin had only recently moved out to the west coast after a brief stint at Cessna Aircraft Corporation.
During his college days at Wichita State, he had enjoyed an outstanding athletic career as a running back. In fact, Klisanin was recently named to the Wichita State Hall of Fame for his athletic prowess. Even then, Klisanin had always found a way to win.
Now, he was teaching and coaching baseball and he wanted to win.
Listening to the former players sitting around the table at this reunion, however, you could easily get a sense of the relationship then between coach and players. They talked about the big hits; the memorable strike outs; the stolen bases. The memories came flooding back.
Accordingly, there was perhaps as much ribbing around the table that day as had been on the field so many years ago.
Third baseman Craig Miller, who was described as one of the team's best hitters, talked about getting the winning hit to secure the win against Walker as the Oak Middle Trojans eked out a 3-2 victory to finish 8-0.
According to an article published in the school's 1964 yearbook, that win against the Vikings put the Trojans on top to stay as they went undefeated to win the championship.
Miller, in a handwritten note in the 1964 yearbook, thanked Coach K for teaching him "a hell of a lot of stuff that I'll never forget."
Roger French, who flew his own plane from San Diego to Long Beach to attend the luncheon, was the team's speedster. French joked with his former teammates and they pushed back. They admitted, however, that French was the team's fastest sprinter and that he held records for runs scored and stolen bases.
He said the wisdom of Coach Klisanin was knowing "how to best use the team's overall abilities. Coach Klisanin had an ability to communicate individually with players in a way that made the team as successful as it was," said French. "He (coach) never lost his temper."
Darol "Smitty" Smith, the team's catcher, showed his teammates detailed statistics of their games that had been kept by his father. The guys obviously had plenty of fun with those numbers.
Smith's dad kept detailed and handwritten notes about each of the team's games and calculations, including individual batting averages, which were reviewed for each of the players attending the luncheon.
Smith was so enthusiastic back then that he signed Klisanin's yearbook as "your catcher." Smith was said to be a great overall player and was voted the team's most valuable player back in '64.
Even today, Smith is a repository of knowledge about the team, remembering key plays, tense moments and other details, much to the chagrin, and delight of his former teammates.
Former player Ralph Larison, who lives in Long Beach, made no bones about his role on the team. Coach Klisanin put me in "only when there was no chance of losing the game," he joked.
Though more than half a century had passed, the men, for a brief moment, seemed to be transported back to a moment in time in 1964 when they overcame all odds and by their teamwork, were true baseball champions.