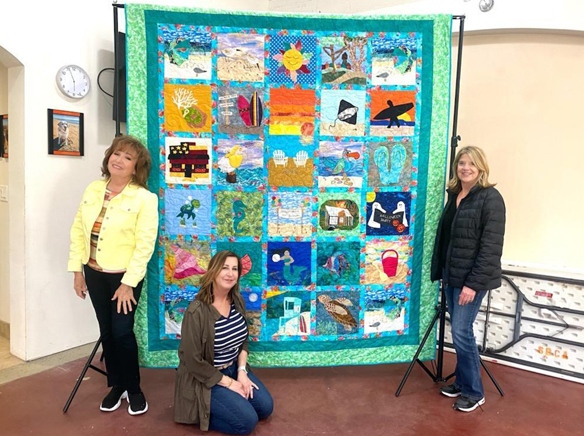 Get your tickets now to help support Las Damas for your chance to win the famous annual quilt (which shows community features) at the 55th Annual Sunset Beach Art Festival, from 9 a.m. to 6 p.m., Saturday, May 13, concluding at 5 p.m., May 14.
The theme this year is, ''It's a good life in Sunset Beach.'' Raffle tickets are 1 for $5 and 5 for $20 and can be purchased from any Las Damas member before the event or at the Festival in front of Nobles Community Center (16861 12th Street, between Pacific Coast Highway and North Pacific Avenue).
Josey Dentzer of Las Damas said: ''Las Damas was started on May 8, 1948 by a group of young women interested in promoting education and social activities. The first quilt was made in 1976 and all proceeds from the festival and quilt benefit three things- Local Charities, the Art Department at School Districts from Los Alamitos to Huntington Beach and Scholarships for local students.''
If you have questions on the quilt, please e-mail info@sunsetbeachartfestival.net.